Tweet
---
Wednesday, March 9th, 2011
5 Most Extravagant Cruise Ships
Cruising has become a major part of the tourism industry. According to Cruise Market Watch, the worldwide cruise market is expected to reach $29.4 billion this year, a 9.5% increase from 2010. That means there are an estimated 19.2 million cruise passengers who would rather sail the seas in a lap of boating luxury rather than pass a boat exam and sail a ship of their own.
All aboard!
5. Royal Caribbean's Oasis of the Seas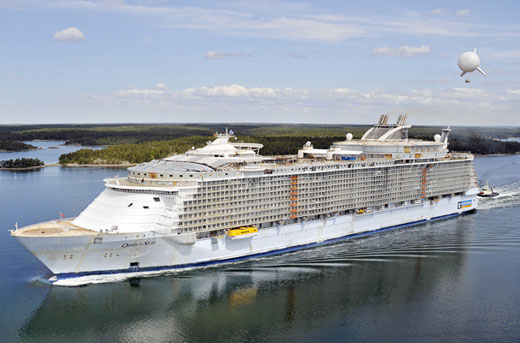 Cost to build: $1.4 billion
Length: 361.8 m (1,187 ft)
Height: 72 m (236 ft) above water line
Beam: 47 m (154 ft) waterline. 60.5 m (198 ft) extreme
Decks: 18
Tonnage: 225,282 GT
Nearly as tall as the Empire State building, the Oasis of the Seas comprises 18 decks and fits 5,400 passengers plus a crew of approximately 2,160 members. Like most cruise ships, this aqua giant offers all the mainland amenities one could ever dream of, right on board. A mini golf course, night clubs, bars, lounges, swimming pools (5 to be precise), volleyball and basketball courts, theme parks and nurseries for children. It also has its own Central Park- the first living park at sea with over 12,000 plants and 56 trees. And, if you ever want to beat the crowds come lunch time, you can zip cord right across the ship!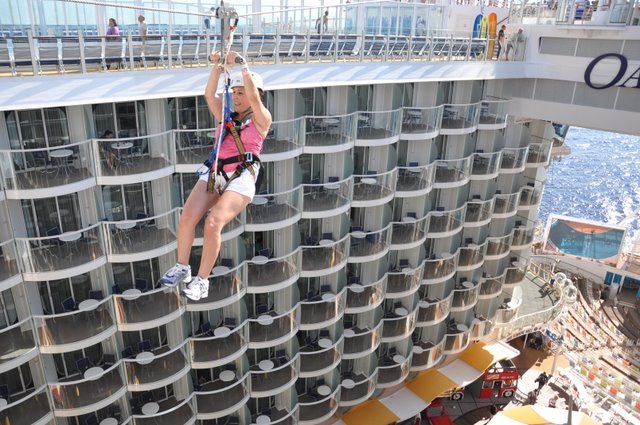 Most expensive room on board: The Royal Loft Suite ($16,600 per person/per week)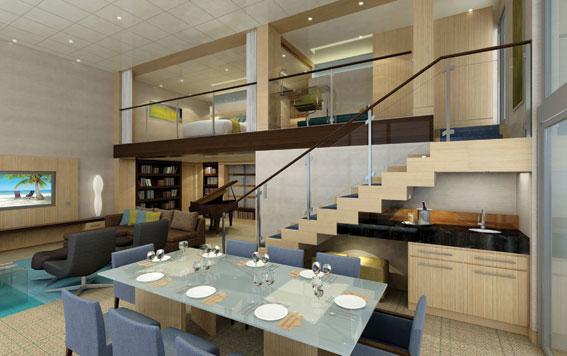 The Royal Loft Suite sits on deck 17 overlooking the ocean. It has LCD TVs, a library, a baby grand piano and a dining room that sits eight people. The master bedroom, located on the second level, has 17-foot windows. After a strenuous day of sun, fun and Pina Coladas, unwind in the loft suite's giant Jacuzzi.
4. Royal Caribbean's Allure of the Seas

Cost to build: $1.5 billion
Length 360.01 m (1,181 ft 2 in)
Height: 72 m (236 ft) above water line
Beam: 47 m (154 ft) waterline. 60.5 m (198 ft) extreme
Decks: 16
Tonnage: 225,282 GT
Allure of the Seas is the sister ship of the Oasis of the Seas. Both hold the title of being the world's largest passenger vessels, the Allure beating it by two inches. On top of its 2,384 crew members, it can hold up to 6,300 passengers in all berths.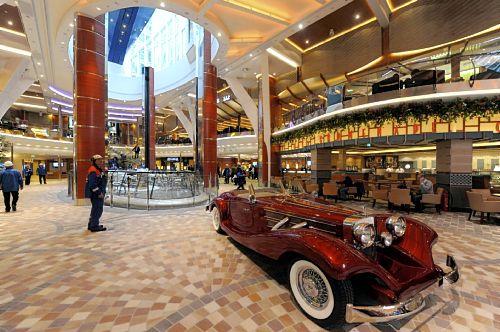 Like its sister, this grandiose cruise ship also has a Central park to take a long stroll in. Guests can enjoy the two-deck dance hall, a theatre with 1,380 seats, an ice skating rink, numerous pools, spas, gyms and a rock climbing wall. One of the ship's neat features is the touch-screen guides on every deck with buttons for "What to Do Right Now" and "Room Finder". And for anyone who needs their dose of Starbucks coffee in the morning- the Allure is the first cruise ship ever to include a seagoing Starbucks Coffee stand.
Update: Last October, the Allure of the Seas passed under a bridge with only 20 inches to spare.
Royal loft suite: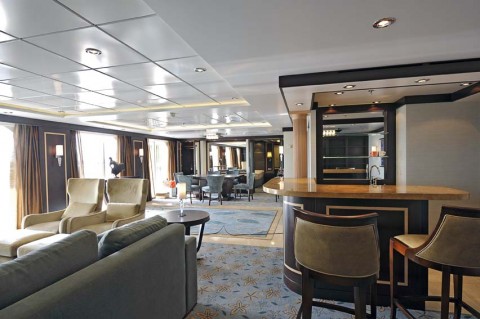 The Allure's Royal Loft Suite spans over 1,524 square feet and has its own private 843 square ft balcony with a Jacuzzi.
3. Cunrad's: Queen Mary 2

Cost to build: $800 million
Length: 1,132 ft (345 m)
Height 236.2 ft (72.0 m) keel to (top of) funnel
Beam: 135 ft (41 m) waterline. 147.5 ft (45.0 m) extreme (bridge wings)
Decks: 14
Tonnage: 151,400 GT
They don't call her the grandest of them all for nothing. 147 feet longer than the Eiffel Tower, this megaship features 10 extravagant dining rooms, 5 swimming pools, a casino, ballrooms, theatres, lounges and boasts the only Planetarium at sea! The Qm2 has a guest capacity of 2,620 and 1253 crew members. The cost to board can be anywhere from $2,869 to $37,499 per person. QM2 is the only dedicated transatlantic ocean liner in operation as a liner.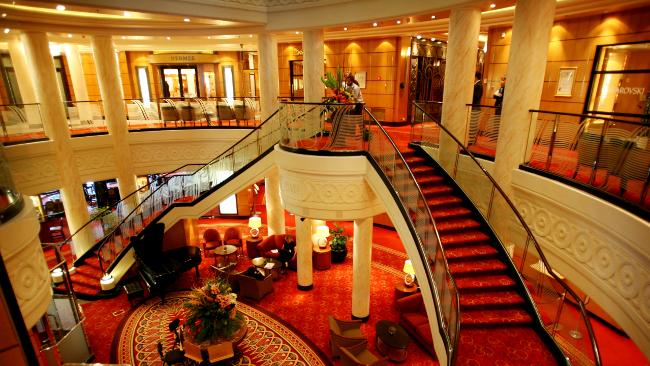 When money is no object the QM2 offers five duplex apartments (pictured below) which are two stories high and measure more than 1,650 square feet. Each apartment features its own gymnasium and balcony and of course, butler and concierge service. Need more room? The duplex apartments can be connected to a penthouse to create a stunning 2,220-square-foot living space. Now that's luxury!
QM2 duplex apartment: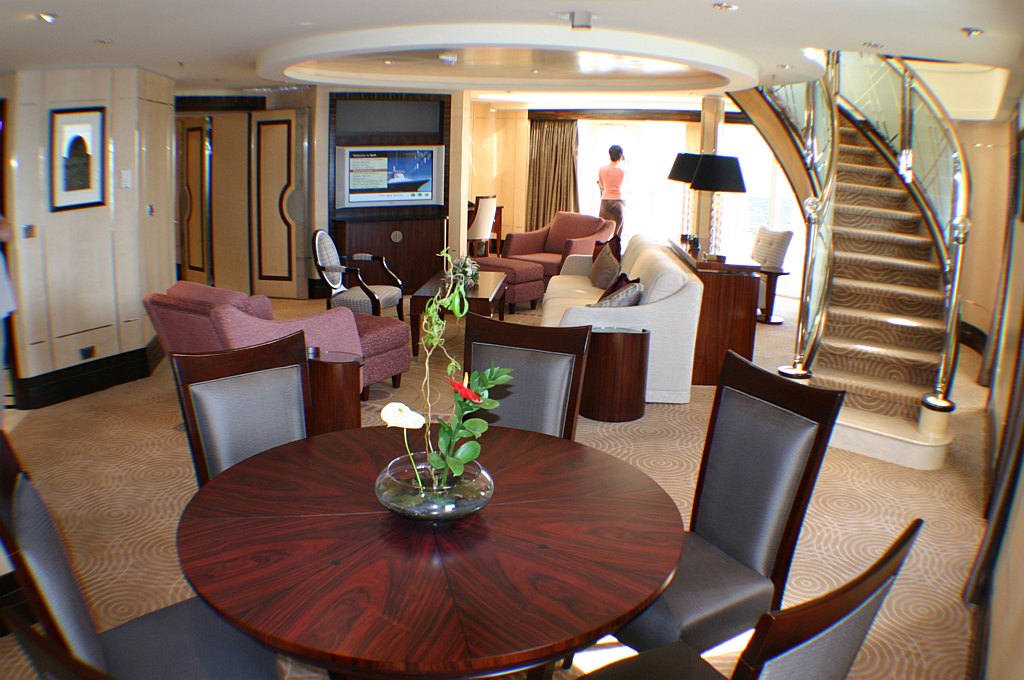 Fun Fact: Queen Mary 2's whistle is audible for 10 miles
2. Yachts of Seabourn's Odyssey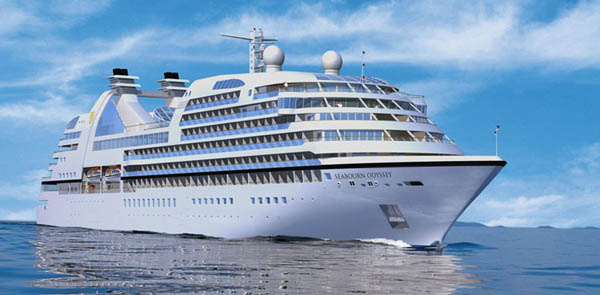 Cost to build: $300 million
Length: 650 feet (200 m)
Beam: 84 feet (26 m)
Decks: 11
Tonnage: 32,000 GT
The yachts of Seabourn, awarded best small ship cruise line in 2006, 2007, 2009 and 2010 operate all around the world and offer unmatched luxury. A Seabourn Cruise can set you back $50,000 or more per person and can last as long as 100 days.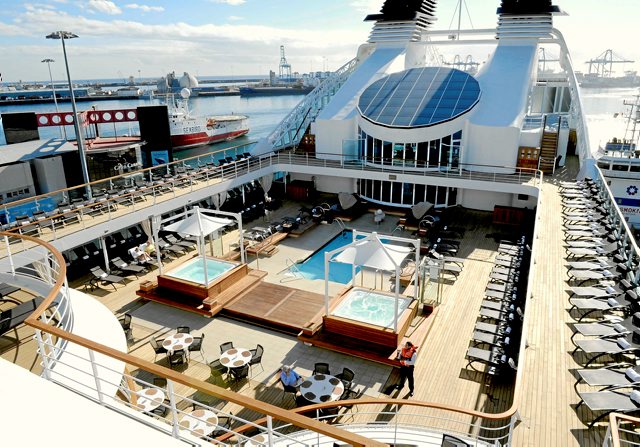 Though tiny compared to the previous cruise ships mentioned, the Odyssey is the largest of Seabourn's ships. Seabourn cruise lines are known for their exceptional service. The Odyssey has a capacity of 450 passengers with nearly 1 crew member for every passenger (335 crew members total). Odyssey passengers can savor five-star, all-inclusive dining in four restaurants with menus crafted by celebrity chef Charlie Palmer.
The Odyssey has its own special features, water sports from the unique marina and even a private diamond showroom. "The Retreat" area features a contoured nine-hole mini golf course, a giant chess board, shuffleboard and a beautiful area for stargazing in the evening. Additional amenities include Seabourn-branded netbooks and iPods for loan, as well as complimentary pool-side massages and signature 'Caviar in the Surf' service.
All of the 225 Seabourn Odyssey accommodations are suites, ranging in size from 295 to 1,682 square feet. Ninety percent of the suites have private balconies.
Owner's suite: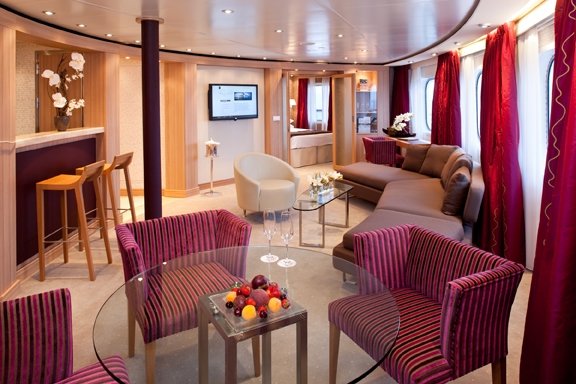 1. MSC Cruises' Splendida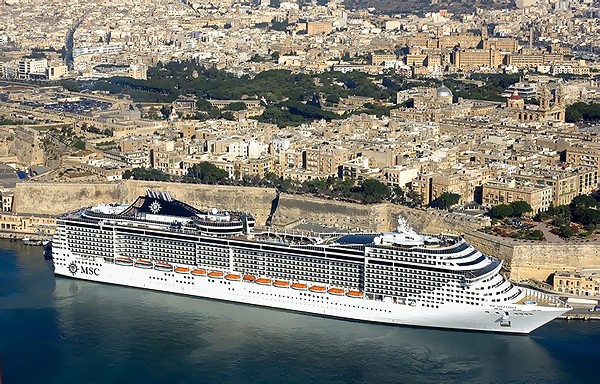 Cost to build: $550 million
Length: 1,093.5 feet (333.30 m)
Height: 219.2 feet (66.81 m)
Beam: 124.6 feet (37.98 m)
Decks: 18
Tonnage: 133,500 GRT
Whether you want to call it the most beautiful ship in the world or the most extravagant, the ship is designed in grand Italian style. The ship was even christened in July 2009 by Italian bombshell actress Sophia Loren. Among the ship's most illustrious features are the two sweeping staircases in the reception area made of Swarovski crystal. Each of the 72 steps glitters with $40,000 worth of crystals ($2.8million in total). Even the grand piano sparkles with 20,000 Swarovski crystals!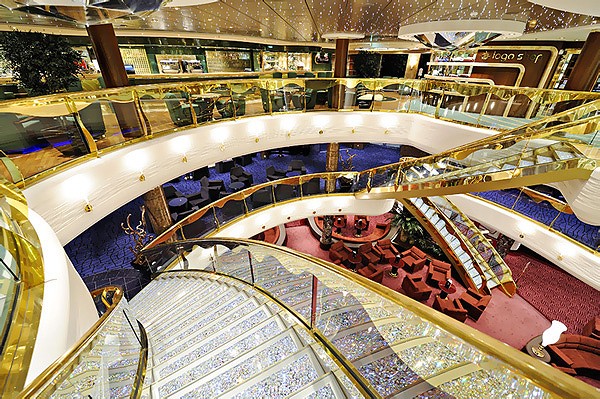 Splendida suites offer interactive TV, WiFi, Nintento Wii, luxurious linens, and marble accented furniture. The Yacht Club even provides free WiFi-enabled notebook computers for guests to use from their cabins or the common areas of the club.
MSC Splendida Yacht Club Deluxe Suite: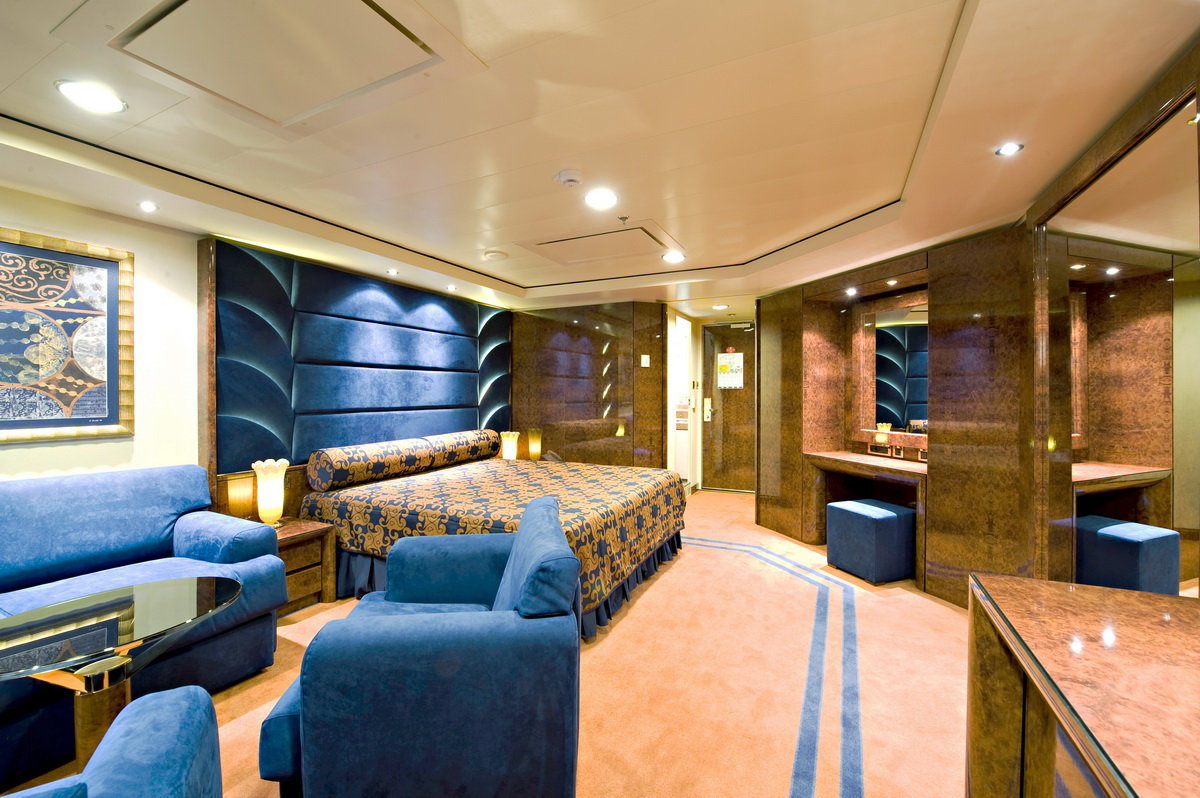 Comparison Chart
| | Cost to build | Length | Height | Beam | Decks | Tonnage |
| --- | --- | --- | --- | --- | --- | --- |
| Oasis of the Seas | $1,400,000,000 | 1,187 ft | 236 ft | 154 ft | 18 | 225,283 |
| Allure of the Seas | $1,500,000,000 | 1,181 ft | 236 ft | 154 ft | 16 | 225,282 |
| Queen Mary 2 | $800,000,000 | 1,132 ft | 236 ft | 135 ft | 14 | 151,400 |
| Odyssey | $300,000,000 | 650 ft | - | 84 ft | 11 | 32,000 |
| Splendida | $550,000,000 | 1,093 ft | 219 ft | 125 ft | 18 | 133,500 |
Share Your Story With Us!
Cruising offers a unique and fun way to travel. What's the most extravagant cruise ship you've been on? Share your story with us!
---
Related Articles
comments powered by

Disqus