Leader in Boater Education - Official site
BOATERexam.com® is approved by Transport Canada to provide official boating safety courses, safe boating exams, and to issue the Pleasure Craft Operator Card (commonly known as a boating license) in both official languages to recreational boaters in Canada.
Leader in Boater Education – Over 2 Million Boaters Certified
BOATERexam.com® is the leader in boater education across North America and has educated and certified more than 1 million boaters since 1999. BOATERexam.com® is approved by Transport Canada, approved by the National Association of State Boating Law Administrators and is recognized by the U.S. Coast Guard Office of Boating Safety. In addition to providing boater education in Canada, BOATERexam.com® also certifies and educates boaters across the United States by working directly with over 40 U.S. State agencies.
Largest Issuer of Pleasure Craft Operator Cards
BOATERexam.com® is the largest issuer of Canadian Pleasure Craft Operator Cards offering boater education services in both official languages and in multiple formats: Online, In Class, or at Special Events across the country.
Internet Safe Boating Course: The most convenient way to get educated and certified. Available 24/7. Please visit the Online Exam Overview page for more details.
Tradeshows and Special Events: The BOATERexam.com® Team can be found at boat shows, sportsmen shows, and boating related special events across the country.
BOATERexam.com's National Databank of Pleasure Craft Operator Cards
BOATERexam.com® administers the databanks for the Course Providers listed below, so even if you didn't take your boating exam with us, we likely still have your name in our databank and can issue you a replacement boating license. If you lost your boating licence, or need to replace a damaged boat license, call and we can issue you a new card.
Navi-Pro
FNCC/CLNC - Forensic & Nautical Consultants of Canada Inc/ Consultants Legiste et Nautique du Canada
The Navigators Marine Services Inc.
The Canadian Vessel Training Institute
H2Ocean Enterprises Ltd.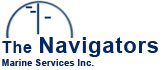 Privacy and Security

BOATERexam.com® meets or exceeds all requirements of the Canadian Privacy Act and does not share any customer information with any non-government third parties. BOATERexam.com® 's state-of-the-art computer servers are protected by biometric locks and 24-hour surveillance; its software and infrastructure is updated regularly with the latest security patches; and its network is protected by an enterprise-class firewall to keep customer data safe.
BOATERexam.com® is a proud supporter of the following organizations: