The Outboard Engine: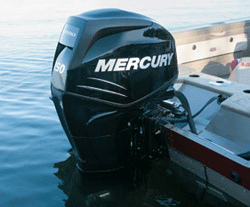 The most popular type of motive power chosen by the Canadian inland fisherman is an outboard engine. Hanging the right engine on the transom, one that will provide optimum performance for your boat choice is obviously the route to go. A general rule to observe is to rig your boat with an engine rated at no less than 85% of the boats maximum horsepower capacity. For example, a 17' hull that is rated for 115 horsepower will perform adequately running a 100 horsepower engine.
Understanding that ratings set a performance standard to get the most out of your boat under all conditions the obvious choice is to assess what you want your boat to do. Consider whether pulling water skiers or boards is part of the parameter. If so, then you want to max the power. Another important consideration is out running bad weather. A boat that isn't powered well will probably not get you back to the dock very quickly, which can pose a dangerous situation in adverse conditions.
Under powering your boat will also have other effects, lack of optimum power will result in a poorer hole shot - getting the boat up on plane and with a harder working engine will increase gas consumption - lack of bow lift - with more of the hull creating drag in the water. Equally true is to be sure not to overpower your boat. Most manufacturers' warranties will be voided if you run an overrated engine, not excluding the fact that it will be extremely difficult to insure an overrated combination.
It is as important to pay attention to engine rating as it is to the carrying capacity of the boat. An overloaded boat is also a hazard.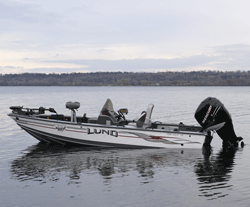 Achieving total performance from your chosen boat/motor combination may well include the right propping. Hull design, weight and the type of engine will vary from one setup to another. Running the right prop on your boat that maintains the optimum performance range may require a little more tweaking. Due to the differences in hull designs, engines, and weight from one boat to another, finding the correct propeller for each boat will vary.
First, you have to find the manufacturer's recommended RPM range of your outboard engine in the owner's manual or ask your dealer. If at full throttle, the RPM is too high, you will need to try a propeller with either a higher pitch or larger diameter. At the opposite end, if the engine RPM is too low at full throttle, try a propeller with a lower pitch or smaller diameter. As a general rule of thumb, a 1 inch reduction in propeller pitch will result an increase of 150 to 200 RPM at full throttle. A good quality aluminums propeller will provide satisfactory performance for most family and fishing boats. For ultimate top speed or better acceleration, a stainless steel propeller will probably be required.
Maintenance requirements will vary, depending upon the engine "Technology". The different models out there are two stroke, four stroke, electronic fuel injection, high pressure direct injection and direct injection.
---
The electric motor
If your purchase is mainly for fishing then including an electric motor in the package is a wise decision. An electric motor allows navigation in very shallow areas, regardless whether moving around weed clumps or stump fields being able to quietly move around this structure, work the edges inside or out without the big motor running is an obvious benefit. Operating with stealth in these conditions won't disturb the fish within their comfort zone.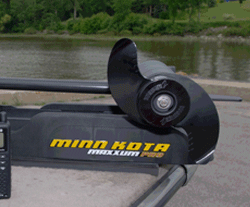 There are two popular types of motors, the transom mount and the bow mount models. Some models are manually operated, others are operated with a manual pedal and some with a remote electric command. If you have the choice, a bow mount electric motor with foot control allows you much greater boat control and positioning.
Before you buy an electric motor, here are some points to consider: Where on the boat do you want to mount your trolling motor? Do you want to steer your trolling motor with your hand or foot? How many batteries do you plan to use with your trolling motor? Models are available in 12, 24 and 36 volt configurations. Each 12 volts requires a battery.
The next consideration is shaft length. Measure from the bow to the water surface to find the appropriate shaft length and add at least 18" to allow for wave lift.
Electric motors range from ratings of 28 to more then 100 pound of thrust. The thrust requirement of your boat will be determine by the size and also by the weight of your boat. The manufacturer establishes a few charts to help you determine the power you will need. You have to remember, when you choose your motor, that it is always better to have too much power than not enough.
---
Electronic Accessories: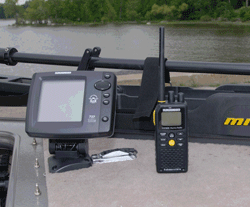 The word sonar is an abbreviation for the words "Sound, NAvigation, and Ranging". The introduction of depth-finders to the marketplace 35 years ago is probably the largest and most evolutionary development small boat navigation has experienced. Of particular aid to the fisherman, the ability to now see what's under the surface has revolutionized fishing techniques.
Being able to see bottom structure, knowing the precise depth, being able to detect clouds of baitfish and even seeing fish targets sure does contribute to fishing success. Improvements in the technology now allow the depth of individual targets to be displayed. It is possible to determine bottom content - mud, weeds, sand and rock all show different patterns in the display. Finding the thermo cline - that band of water signifying cooler temps is easy. This purchase is essential for the discerning fisherman and will greatly impact on your fishing success.
Here are few criteria to check before you buy your unit. The first consideration is power; there are models on the market that generate up to 8,000 watts peak to peak, (preferred by deep sea fishermen). Then we have 3000 watt units that are really great for the average fishermen. The resolution is also a criteria to examine. The more vertical pixels you have, the better resolution you gain. Sonar units that deliver up to 480 vertical pixels are now available. A best buy unit that offers 320 or 240 vertical pixel is considered to be really good. Quality sonar prices start at about $250 and can go as high as $5000.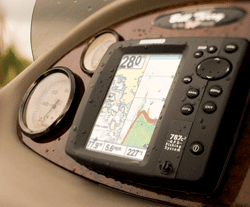 The next wonder of high tech advancement for the fisherman or navigator is GPS. Utilizing Global device Positioning System you can now tell your exact position within a degree of accuracy of about 50 feet. An acquired position allows you to set up and follow a track or route, set waypoints, determine direction of travel and distance covered. Saving routes and waypoints allow you to duplicate your positions the next time you return to that area.
The value of these features really becomes known when you are navigating a larger body of water where reference points are limited or non existent. For a good fixed unit, prices starts around $500 and can run as high as $4000.
---
The Livewell:
A good livewell is the best system to keep the fish you caught, alive and healthy. An electric pump brings the water from the lake or the river into a big isolated storage box in the boat. An aerator pump insures the level of oxygen. There are even some boats that are equipped with a thru-hull pickup, which will replenish the water supply when you are underway. With this kind of system, you can release your fish at the end of a tournament, release them after you take pictures or simply bring them back home while still fresh. A baitwell is also a great option. It can be just a bucket in the livewell or it can be a separate small compartment. It's a great addition that will keep your minnows lively and in good condition.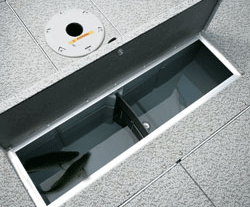 There are also optional uses for a livewell; you can use this compartment for additional storage or also as a cooler. You simply put ice in it, and you can keep your pop, juice and lunch very fresh.
---
Compartments: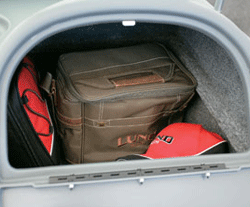 Before you buy a boat, jump in it and check all the compartments. It is really sad to realize after a while, that the boat you bought doesn't answer all your needs. The compartments may seem to be a minor advantage, but believe me they are important.
Where are you going to store your anchor, the ropes, the fenders, the batteries, your lunch, your rain suit, extra clothing, etc. For a lack of storage, these items will lay forever on the floor, in the way and cutting down on the space available for your fishing or boating enjoyment.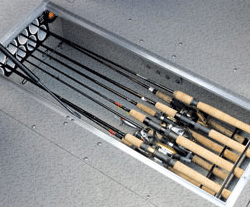 What about rod racks? It is really nice to have a place to store them and to protect them. A drop-in tackle box for storage is perfect and keeps these items close to hand.

Being sure all the components of a boat suit you, all the bells and whistles add to your boating pleasure is best planned for in the dealers' showroom.
Before buying, you should really analyse your needs. Your investment is for many years, you really want to get the most for your money and best for your needs.
---
North American Safe Boating Awareness Week
May 17th to the 23rd. 2008
Boating season is just around the corner and as it approaches the CSBC (Canadian Safe Boating Council) is looking for your help to both practice and spread the word about safe and responsible boating. By the way BOATERexam.com® , the folks who tested you for your Pleasure Craft Operator Card and sent you this e-newsletter, is a proud and active member of the Council. A large focus of our work will be promotion just prior and during North American Safe Boating Awareness Week which runs from May 17th to the 23rd.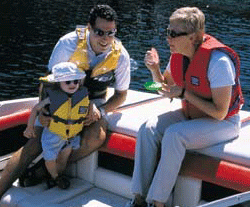 To start with, first we want to remind you about some of the basic safe boating practices you learned with BOATERexam.com® . They are embodied in the following key messages that the council is promoting this year through both our national and local outreach programs.
Wear your lifejacket
Don't drink and boat
Get some training
Prepare yourself and your boat before you leave the dock
Be aware of the risks associated with sudden immersion into cold water.
They're all based on common sense and will be communicated nationally to radio, television, magazines and newspapers across Canada. Last year our messages achieved more than 43 million impressions. On a regional level, we work with volunteers who use the national campaign messaging to provide local radio, community cable television stations and community newspapers with public service programming.
For both the national and local campaigns we are always on the lookout for volunteers to help deliver the messages and participate with the media for interviews about boating safety.
Last year, the CSBC worked through some 120 volunteers affiliated with over 20 organizations including the Canadian Coast Guard Auxiliary, Canadian Power Squadrons, Canadian Yachting Association, Lifesaving Society, staff of the Canadian Coast Guard and Transport Canada and our own volunteers. Individuals register on-line and agree to:
Happily receive our information
Reach out to their local community media.
Track what they do and report back on their accomplishments
Make suggestions for next year's campaign
If you have an interest in working with our volunteer group, check out the details about Safe Boating Week at our web site at www.csbc.ca . There you will find information about registering as a volunteer for the campaign or you could register right now by contacting Ian Gilson, CSBC Director (Volunteer) 905-387-5135 (Hamilton) or [email protected]
If helping out with this years campaign as a volunteer is not for you, we ask you simply to be a safe boater and set a good example. It's not difficult, and simple things like wearing your lifejacket and encouraging your passengers to do so as well can go a long way to promote safe boating.
Thank you for taking the time to earn your Pleasure Craft Operator Card with BOATERexam.com® , have a great season on the water and remember to keep the 5 CSBC safe boating key messages top of mind.