BOATERexam® Testing Centres at Bass Pro Shops
Bass Pro Shops in Vaughan, ON is our Flagship Testing Centre for BOATERexam.com®, where boaters can take their BOATERexam® on site and obtain a Pleasure Craft Operator Card.

BOATERexam.com® is on site at Bass Pro Shops from May to September each year, outside the front entrance of the store where you can show up with no appointment and take your BOATERexam®.
Bass Pro Shops Locations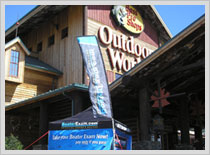 Bass Pro Shops Toronto – Vaughan, ON
Vaughan Mills Shopping Centre at Hwy 400 and Rutherford
Google Map
Cost: $60 + tax (VISA, M/C, AMEX, DEBIT, CASH).
No need to pre-register for the exam, but photo ID is required.
Available in English and French, or you may bring your own translator to assist during the exam if your first language is not Eng/Fre.
Your temporary card is issued on the spot upon passing the exam and is good for 60 days. Your Permanent card will be in the mail in 3-4 weeks and is good for life.
Please contact BOATERexam.com® 1-866-688-2628 for any inquiries.
Bass Pro Shops Outdoor World has established itself as a cutting-edge innovator in the highly competitive world of outdoor retailing. Their unique approach which includes cozy, hunting-lodge themed décor, large, comprehensive product displays and professional sales help who not only market the outdoor lifestyle but live it.