Who needs a Pleasure Craft Operator Card (PCOC) in Canada?
Anyone operating a motorized pleasure craft in Canada is required to obtain proof of education from a Transport Canada–approved course.
How to Get Your Boating Licence

Study the Online Course


Animations help you learn

Pass the Online Exam


Retries are always free

Print your Temp Card


Go boating right away!
Lost? Damaged? Need Extras?
Order now!

Ordering is easy!
To order a replacement card, sign in to your account.
Transport Canada Approved,
Trusted Nationwide
BOATERexam.com® is Canada's most trusted provider of boating safety education and a Transport Canada approved course. Our boating license certification course is trusted by Canadians and recognized by over 50 U.S. States.
Over 2,000,000 certified Canadians and counting:
BOATERexam.com has a TrustPilot rating of 4.7 out of 5 based on 17667 ratings and reviews.
What is the Pleasure Craft Operator Card (PCOC)?
The PCOC is proof of competency that shows boaters understand how to operate a boat safely. This is achieved through taking the boater safety course online or in person and passing the final exam.
Who Needs Proof of Competency in Canada?
All Canadian residents operating a power-driven boat on Canadian waters (except for Nunavut and the Northwest Territories) need to carry proof of competency. Non-residents must also show proof of competency if they operate a craft that is registered in Canada or operate a motorized craft on Canadian waters for more than 44 consecutive days.
Is the Pleasure Craft Operator Card the Same as a Boating Licence?
The PCOC does not expire and therefore is not called a licence. Only a PCOC is required to legally operate a motor-powered boat on Canadian waters.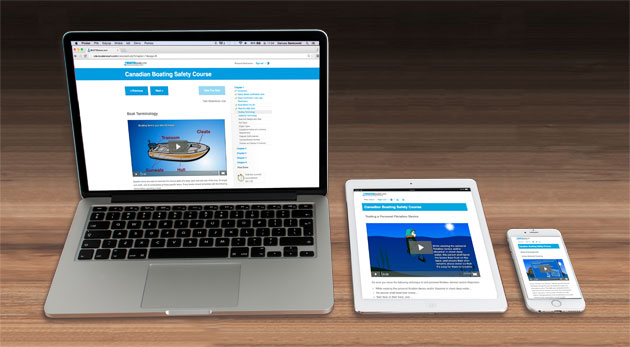 You control your
learning experience
From laptop to mobile phone, choose when and where you complete your course.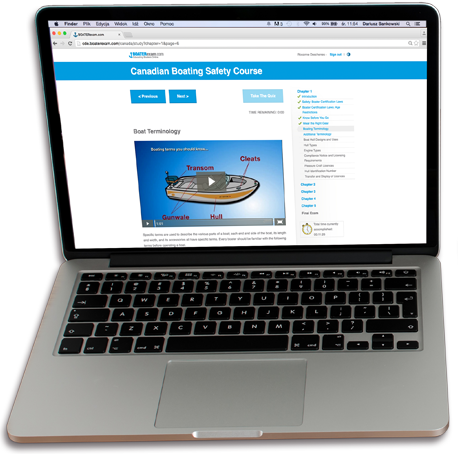 You control your
learning experience
From laptop to mobile phone, choose when and where you complete your course.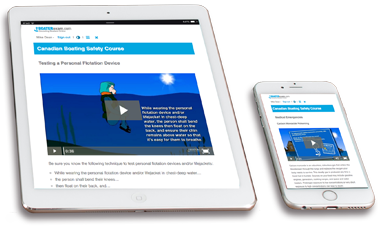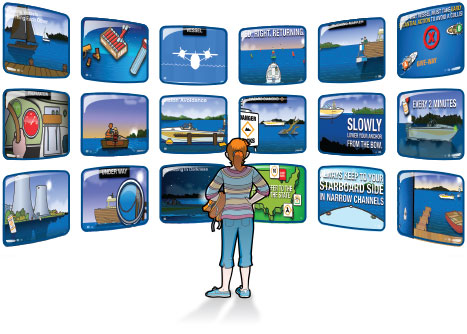 Illustrated questions
We found out a long time ago that people learn best when they can see what they're learning.
Shouldn't you be tested the same way? We think so. We illustrate every one of our quiz questions to help you get your boating licence.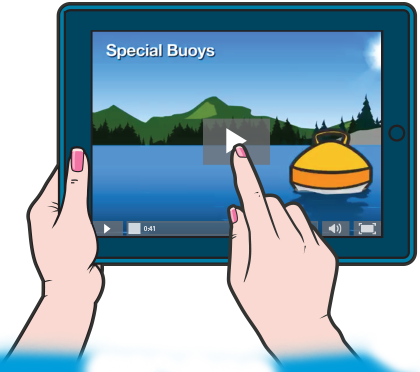 Our interactive animations
bring boating to life.
BOATERexam.com® takes you out of the textbook and into the captain's seat.
Our course features tons of dynamic content, including hundreds of interactive and narrated animations. That means you aren't just reading your boating exam, you're listening, watching and engaging — which means you'll learn more, be a smarter boater and have more fun.
Boating in Canada
With 202,080 km of coastline, Canada touts the longest coastline in the world. The Pacific Ocean sits to the west, the Atlantic Ocean to the east, the Arctic Ocean to the north, and the Great Lakes to the south. Canada is also home to over 31,752 lakes larger than three square miles, the boating options are truly endless in Canada.
Look for the best places to boat in: Alberta, British Columbia, Manitoba and Ontario.
Frequently Asked Questions
Below are some common questions about safe boating rules & regulations.
Q. Is there an age exemption clause?
A. No, there is no age exemption—the law applies to all operators, regardless of age.
Q. Is the card good for life?
A. Yes. The Pleasure Craft Operator Card is good for life with no annual fees.
Q. What if I lose my Pleasure Craft Operator Card?
A. You can order a replacement card by clicking Lost your card? in the top menu or by contactin us at 1-866-688-2628 to order another card.
Q. In which province is the Pleasure Craft Operator Card valid?
A. The card is valid in each province.
We're boaters too.
We've helped over 2 million people get certified online. So we know what it takes. Our expert, bilingual customer service agents are available day and night if you have questions about our boating license service or about how to get certified. Think of us as a coach who you can call or email if you ever need help.
7 days a week, 9AM to MIDNIGHT (EST).