Canadian Boating License on the Internet!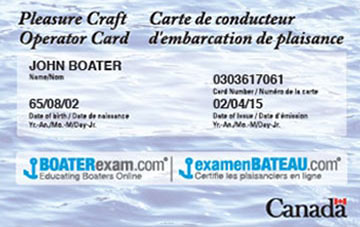 All Canadians are now required by federal law to carry a boating license when operating a powered water craft. To receive this boat operator license, you must pass a multiple choice exam with a score of at least 75%.
Where can I take my boaters exam™ and get my boat license?
You can write your exam directly on the internet at BOATERexam.com®. Once you pass the exam your boat operator license is mailed to your home. In the meantime, you can print a temporary license and use that while you wait for your permanent card to arrive.
Where can I study for my boating license test?
All the required safe boating training material to get your boat operator license is available at BOATERexam.com® . Simply visit our home page to register and gain access to the course and boater exams™.
Where can I get more information about Canadian boating regulations and the Canadian boating license?
Answers to most of your questions can be found on our Frequently Asked Questions page. You may also visit the Transport Canada Office of Boating Safety for additional information, or you can contact us and we will be glad to answer any of your questions.
Get your boating license now, it's the law!
---
---
FREQUENTLY ASKED QUESTIONS
Q. Who needs the Pleasure Craft Operator Card and when?
A. All operators of powered watercraft used for recreational purposes within Canada require the card as of September 15, 2009.
Q. Is there an age exemption clause?
A. No, there is no age exemption - this law applies to all operators, regardless of age.
Q. Is the card good for life?
A. Yes. The Pleasure Craft Operator Card is good for life with no annual fees.
Q. In which provinces is the Pleasure Craft Operator Card valid?
A. The card is valid in each province; Ontario, Quebec, Nova Scotia, New Brunswick, Manitoba, British Columbia (BC), Prince Edward Island (PEI), Saskatchewan, Alberta and Newfoundland and Labrador (NFLD).