BOATERexam.com®, The Wave of the Future
Watsonville, CA.- Do you ever get the feeling that you are the only person who is observing the Rules of the Water? Well, you are not alone. It just seems that way!
Canada has been blessed with a number of magnificent lakes, rivers, and waterways. And just like the US they have also seen a marked increase in problems on the water. As a result the Canadian government instituted legislation that mandates anyone who uses a motor on a waterway must first obtain a boating license.
That means people who use canoes or rowboats are off the hook. Unless, of course, if they have a motor on their vessel, in which case they are just like everyone else and they need a boat license. This new law should also have a dramatic effect on a number of American anglers who make the pilgrimage each year to fish pristine Canadian lakes and rivers.
In an effort to educate the public and deal with an ever-growing problem, Canada has agreed to let mariners take the test for their boating license online. With that in mind, www.BOATERexam.com ® was formed to meet the growing need to license individuals who desire to operate vessels on Canadian waters.
Brent McNamee is the Vice President of Marketing and Business Development for BOATERexam.com® and one of the people who will oversee the development of online testing for people seeking boating licenses in Canada.
JG: What is the genesis of BOATERexam.com® ?
BM: The Company was incorporated in January 2000 with the head Office in Ottawa, Ontario, Canada. We have opened up sub-offices in other provinces to serve the public. The web site has been live since May 2000 and has increased sales by over 1000% after it's first year of operation.

JG: How did you guys come up with the idea and how was it developed?
BM: President & CEO, Larry McNamee initially recognized that over 8 million Canadian Recreational boaters must obtain a Pleasure Craft Operator's Card to drive a Pleasure Craft on Canadian waters. The initial thought was to offer classroom safe boating courses for the boating license in Ontario, but upon further research, the need was apparent to offer an alternative to classroom boating safety courses and provide safe boating training and certification on the Internet. For boaters living in rural communities where no boating safety courses were offered, and for boaters who simply wanted to study on their own and take the boat exam, for a fraction of the cost for a safe boating course, this service now meets their needs.
JG: Everyone is concerned about safety on the water, why were the Canadians at the forefront of this legislation?
BM: The Canadian Coast Guard is concerned about the safety of boaters. Until this new legislation was introduced in 1999, there was no formal training required in order to operate a pleasure craft fitted with a motor. The speculation can be made that due to numerous serious accidents with PWC's and the inherent dangers of them, that this was the driving force behind the legislation.
JG: How big an issue is safety and boating in Canada?
BM: Safety & boating in Canada is a huge issue. The Age-Horsepower restrictions that have also been introduced, impose specific restrictions on the maximum horsepower that can be operated by youths. This applies to the operation of pleasure crafts fitted with a motor and used for recreational purposes. This law also prohibits persons less than 16 years from operating PWC's regardless of whether they are accompanied by an adult.
JG: I know you have a number of outstanding lakes, rivers, and waterways in Canada. Was there any one event that triggered this movement, or just a growing number of people who wanted to insure safety on the water?
BM: It is a safety promotion hoping to hedge against the over 200 deaths per year reported from boating accidents. In addition, perhaps with the increase usage of PWC's and having no age and horsepower restrictions in place to control the usage, it was time to take action. There were also several deaths involved with PWC usage.
JG: Explain how this process would work online.
BM: The boater registers on the site and pays via credit card to take the boating exam. They may train for FREE online and when they are prepared they ask someone to proctor the exam for them. The proctor who is a professional and not related, registers for free and is present during the exam and attests that they will ensure the integrity of the exam is not jeopardized. The exam is timed and each exam is a randomly pulled from a pool of questions. Upon completion the exam is scored and the grade is displayed, allowing the boater to print a temporary safe boating certificate for immediate use while they wait for the Pleasure Craft Operator Card to arrive in the mail. The pleasure craft operator card is good for life.
JG: Can people obtain any type of manual for boat handling & safety by way of a download?
BM: Yes. A CCG Safe Boating Guide is available and free on BOATERexam.com® as well as Safe Boating Training Manual, both can be printed or studied online for free.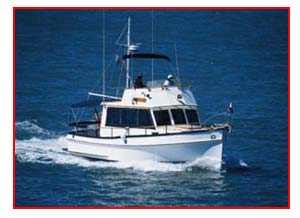 JG: Since this is done online, when do people decide when they are ready to take the safe boating test?
BM: Every boater has a different knowledge base and experience on the water, some boaters do not bother studying, others just refresh their knowledge and some, and especially youth, study the entire boating safety manual.
JG: Please describe the "proctoring" system at work, so that people cannot cheat on the exam.
BM: A Proctor must register online & complete an online form identifying him/her as meeting the proctoring requirements and agreeing to be present during the time of the safe boating exam and to ensure no cheating takes place. BOATERexam.com® verifies these proctors. Some proctors decide to become a Permanent Proctor and thus keep a permanent ID and password that is good for a 6-month period; these proctors typically charge a small proctoring fee for their services.
JG: What type of topics would the test touch on?
BM: The list is very comprehensive; applicable laws, license & markings,
fueling, docking, operating, preparing for trips, loading, anchoring, reading navigational aids, lighting, distress signals, avoiding collisions, and equipment & maintenance.
JG: In Canada, who will need to take this test?
BM: The following lists which operators* of pleasure craft fitted with a motor and used for recreational purposes and the date at which proof of competency is required on board:
All operators born after April 1, 1983 September 15, 1999.
All operators of craft less than 4 m in length, including personal watercraft September 15, 2002.
All operators September 15, 2009
* Applies to non-residents operating their pleasure craft in Canadian waters after 45 consecutive days. Operator card or equivalent issued to a non-resident by their state or country will be considered as proof of competency.
Note: Certificates for boating safety course completed before April 1, 1999 will be recognized.
JG: Do you see the day when this will be used in the United States?
BM: Yes. I believe so, as some USA states already have very good boating safety legislation, courses, and testing in place. With the numbers of accidents and increased usage of waterways it will undoubtedly be worldwide.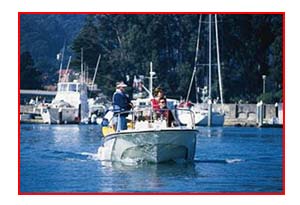 JG: Do USA Boaters and European Visitors need to obtain a Pleasure Craft Operator Card?
BM: Yes, if they are operating their pleasure craft in Canadian waters after 45 consecutive days.
Note
Pleasure Craft Operator card or equivalent issued to a non-resident by their state or country will be considered as proof of competency.
I would also like to say that I anticipate that the following three groups of Non-Residents may choose to obtain their own PLEASURE CRAFT OPERATOR CARD for convenience's sake alone. With the increased presence that police will be having on the major waterways and lakes, being pulled over for routine checks will likely become the norm.
US visitors tailoring a boat or PWC who plan to leave their watercraft in Canada for the summer where they have a summer home, cottage or are at a campsite.
US visitors who wish to rent boats and/or PWC's for a day or week or fishermen who book fishing trips through outfitters. These boaters will have to go through a lengthy Safety Checklist with the business renting the watercraft, unless they have their Pleasure Craft Operator Card. Many boaters may obtain their Pleasure Craft Operator Card to avoid the hassle of signing off on these checklists.
Non-resident families visiting Canada during the summer months, perhaps staying with family or vacationing nearby a lake or waterway.
So if you are Canadian or plan on heading to Canada next summer in hot pursuit of fish, or you're just thinking of enjoying some casual recreational boating in the Great White North, go to www.BOATERexam.com ® and get ready to boat safely!