Get Certified in 3 Easy Steps:
Thousands of lakes and rivers to explore
While maybe not blessed with the same amount of water as other Canadian provinces, Saskatchewan still draws thousands of boaters to its many lakes and rivers every year. Whether it's near the shores of Lake Diefenbaker in the south, or around the islands of Lac la Ronge up north, boating and fishing are always popular activities for Saskatchewanians and out-of-province visitors alike.
Find out how to get your Pleasure Craft Operator Card (boating license) so that you can make the most of your time on the water.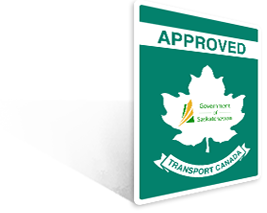 Saskatchewan Boating Regulations
Do you need a boating license in Saskatchewan? If you operate a boat with a motor, then the answer is yes. As of September 15, 2009 all boaters operating in Saskatchewan waters – and right across Canada – are required to have a Pleasure Craft Operator Card, often called a Boating License, onboard in order to operate a powered watercraft.
This is a federal law that applies in Saskatchewan and all other Canadian provinces. Powered watercraft include any vessel fitted with any size motor — even an electric trolling motor!
There are two easy methods for you to get the required certification:
1. Online Course and Exam
Take your exam on the internet. You can take this online course, which is followed by a Transport Canada online test. In approximately 3 hours, you can have your Boating License.
2. Challenge Exam
Students can challenge the Transport Canada test in person at recognized boat shows and tradeshows across Canada, like the Saskatoon Sports & Leisure Show. The largest expo of its kind in the province, the Saskatoon Sports & Leisure Show is put on every March by the Saskatoon Wildlife Federation.
Over 2 million certified and counting:
BOATERexam.com has a TrustPilot rating of 4.7 out of 5 based on 17660 ratings and reviews.
Saskatchewan Boating License or Pleasure Craft Operator Card?
If you are looking for a Saskatchewan Boating License, then you've come to the right place. What many people call a boating license is officially called a Pleasure Craft Operator Card. The Pleasure Craft Operator Card is a federal, rather than provincial, certification that unlike a provincial driver's license, never needs to be renewed.
FREQUENTLY ASKED QUESTIONS
Q. Who needs the Pleasure Craft Operator Card and when?
A. All operators of powered watercraft used for recreational purposes within Canada require the card as of September 15, 2009.
Q. Is there an age exemption clause?
A. No, there is no age exemption – this law applies to all operators, regardless of age.
Q. Is the card good for life?
A. Yes. The Pleasure Craft Operator Card is good for life with no annual fees.
Q. In which provinces is the Pleasure Craft Operator Card valid?
A. The card is valid in each province; Ontario, Quebec, Nova Scotia, New Brunswick, Manitoba, British Columbia (BC), Prince Edward Island (PEI), Saskatchewan, Alberta and Newfoundland and Labrador (NFLD).