California
Boating
Laws & Regulations
Who needs to take the California boaters safety course?
If you operate a motorized vessel on California waterways you will be required to have a California Boater Card. The law will be phased-in for all boaters over the next 8 years. BOATERexam.com® is a delegated provider for the California State Parks Division of Boating and Waterways.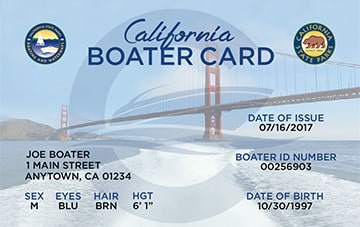 Approved by the
California State Parks Division of Boating and Waterways

Good for life!
Get your official
California Boating Card
California Boating Safety Requirements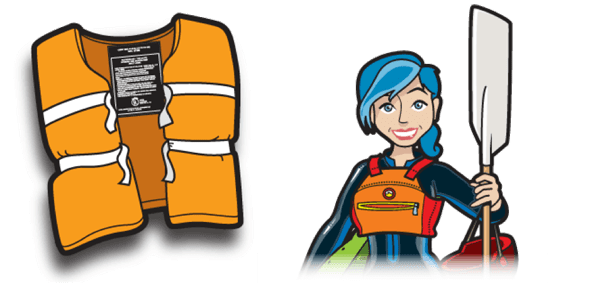 Personal Flotation Devices (PFDs aka Life Jackets)
California boating law requires that all boats 16 feet or more in length, except canoes and kayaks must carry one wearable life jacket (Type I, II, III or V) for each person on board and one throwable (Type IV) device in each boat. PFDs must be readily accessible.
Canoes and kayaks of any length and all other boats less than 16 feet in length must have all of the above except the throwable PFD (Type IV).
---
---
An inflatable Type V life jacket must be worn in order to be considered readily accessible. All wearers must follow the U.S. Coast Guard label for limited uses.
Personal watercraft operators, passengers and anyone being towed behind the vessel must wear a U.S. Coast Guard-approved Type I, II, III or V PFD, except inflatable.
All boaters and/or passengers 12 years of age and younger on a vessel that is 26 feet or less must be wearing a PFD while the vessel is underway.
In California, all boaters between 12 and 15 years of age require adult supervision (18 years of age or older) to operate any motor powered vessel greater than 15 horsepower (including Personal Watercraft). All boaters 16 years of age or older may operate any motor powered vessel greater than 15 horsepower without adult supervision.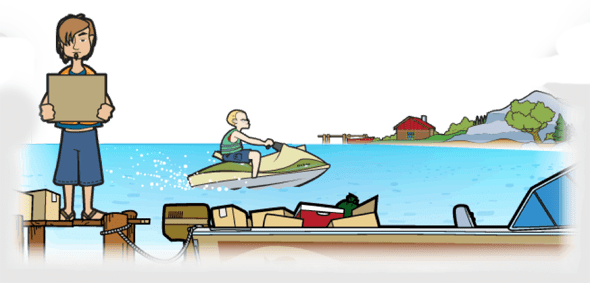 Exceptions:
Sailboats under 30 feet in length (when using the sails for propulsion)
Dinghy used between two moored vessels or between a moored vessel and the shoreline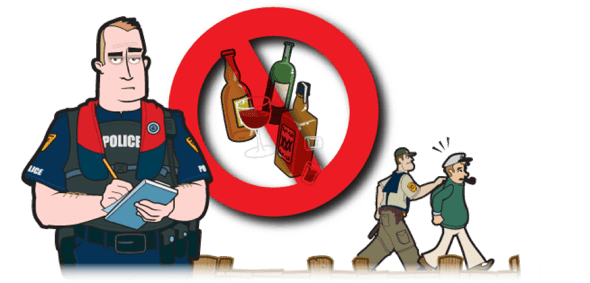 Alcohol & Boating Under the Influence (BUI)
No one shall operate a vessel or towed device (water skis, wake board, etc.) while under the influence of intoxicating liquor or drugs.
A boater with a blood alcohol content of .08% or more shall be presumed to be under the influence of alcohol. When the blood alcohol content level is between .05% but less than .08%, this information may be combined with other evidence to determine if the person was under the influence of alcohol while operating. A person convicted of intoxicated boat operation could receive up to a $1,000 fine and six months in jail.
---
---
"Zero Tolerance" prohibits anyone younger than 21 from consuming alcohol and operating a watercraft with any measurable alcohol level above .01%.
Penalties may include a fine of up to $250, and participation in an alcohol education or community service program.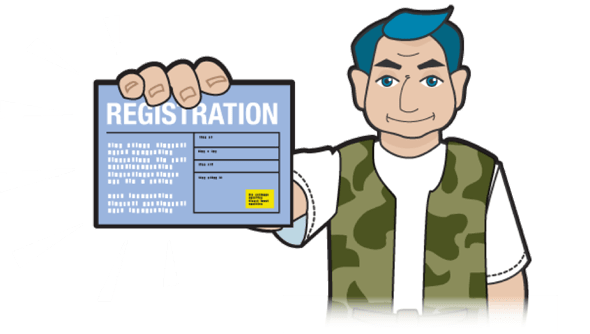 California Boat Registration
The Division of Boating and Waterways (DBW) is responsible for regulating the state boating laws in California.
All vessels may be registered at any California Department of Motor Vehicles (DMV). Upon registration the DMV will issue the boat owner: registration stickers, a Certificate of Number as well as a Certificate of Ownership.
The following vessels do not require registration in California:
Vessels 8 feet or less in length propelled by sail (i.e. sailboards)
U.S. Coast Guard Documented Vessels;
Vessels that are currently registered and kept in another state (after more than 90 days of use, California should be considered the state of principal use)
Vessels registered in another country
Manually propelled vessels (i.e. canoe, kayak)
Certain vessels owned by public agencies
Ship's lifeboats used solely for lifesaving purposes
---
---
Note: Boat owners must keep the title of their boat in a safe place.
Note: On the reverse of the vessel title there is an application for the transfer of ownership.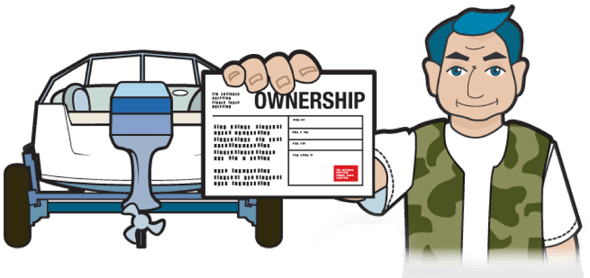 Certificate of Number
Boat owners must have at least a temporary Certificate of Number before they can operate in state waters. Upon receipt, the permanent Certificate of Number must be signed and carried on-board at all times. All registration fees are paid to the DMV. Vessels are registered for 2 years. After the 2 year period the vessel must be registered again.
Note: The California Department of Motor Vehicles must be notified within 15 days if the boater changes residences.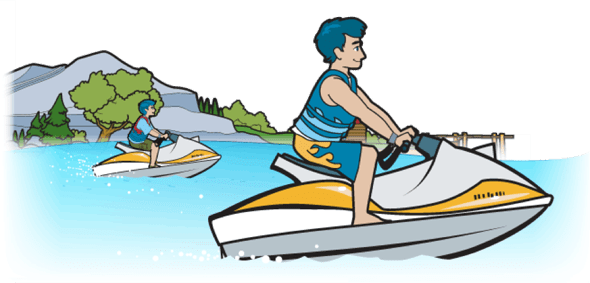 Personal Watercraft Laws & Regulations
Do not underestimate personal watercraft (often called jet skis) – they are very powerful for their small size and demand the same respect as any boat.
In fact, PWC operation must adhere to the same rules and regulations as any other powerboat – including registration with the state and a B-1 class fire extinguisher aboard.
---
---
PWC have some additional requirements:
The operator as well as all passengers of a PWC must be wearing a PFD.
When towing someone on a tube or on water skis there must be capacity on the PWC to accommodate the operator, the observer, and the person being towed.
PWC being operated in California waters are required to have a kill switch with lanyard or a self-circling device. Please note that the lanyard must be fastened to the operator, his clothing or his PFD.
Please consult your local marinas or municipalities for the zones of restricted operation.
Wake jumping cannot be done within 100 ft of another vessel's stern.
Operate at slow-no-wake speed, maximum 5 mph limit when:

Within 200ft of a surfer, diving flag, bank or wading angler, dock, swim float, boat launch, ramp, pier, marina, floating home, moorage area, or boathouse
Within 100ft of a swimmer
Within 200ft of shoreline on all lakes, reservoirs, and bays with bathers
---
---
Hours of Operation: PWC may only be operated from sunrise to sunset.
Age Requirements: PWC operators in California must be at least sixteen years old in order to operate without adult supervision.