Replacement
Colorado
Boating License
BOATERexam.com® is a delegated provider for the Colorado State Parks.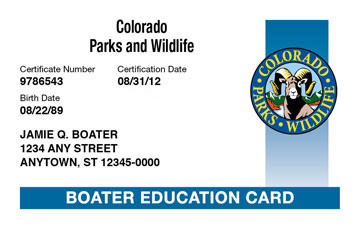 Approved by the
Colorado State Parks
Replacement Colorado Boating Safety Certificate
If your Colorado Boating Safety Certificate is lost or damaged, please visit www.ilostmycard.com to order a replacement.
Colorado Boating License or Boating Safety Certificate... Is there a difference?
The boating safety certificate is proof that you have successfully completed a boating safety course. The boating safety certificate does not expire and does not need to be renewed. Therefore, it is NOT a Colorado Boating License!