Hawaii
Boating
Laws & Regulations
Who needs to take the Hawaii boaters safety course?
As of November 10th, 2014, anyone who wishes to operate a motorized boat over 10 horsepower or a PWC is required to obtain a Boater Education Card. BOATERexam.com® is a delegated provider for the Hawaii Department of Land and Natural Resources.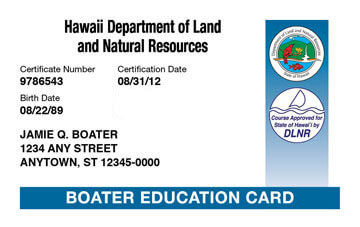 Approved by the
Hawaii Department of Land and Natural Resources

Good for life!
Get your official
Hawaii Boating License
Hawaii boating safety
Education Requirements
In Hawaii all operators of personal watercraft (PWC), also known as 'thrill craft', are required to have proof of successful completion of a state-approved boating safety course. The BOATERexam.com® online boating safety course meets this requirement.
Non-residents
The State of Hawaii honours a reciprocity agreement with other States. A person who is certified to operate a PWC in another state may legally operate a PWC in Hawaii. However, the certification must have been issued through a National Association of Boating Law Administrators approved course and the operator must complete the portions of a certificate course for Hawaii that includes, but is not limited to:
Local ocean safety principles and practices;
The historical, cultural, and customary practices of Hawaii's ocean users; and
Any rules or laws pertaining to protected species and thrill craft operation in the State.
Age Restrictions
No person under the age of 15 is permitted to operate any PWC (thrill craft) on the waters of Hawaii.
All children under the age of 13 are required to wear a U.S. Coast Guard Approved PFD at all times while the vessel is underway unless they are below deck or in an enclosed cabin of a boat that is at least 19 feet in length