Idaho
Boating License Test
Questions
BOATERexam.com® is a delegated provider for the Idaho State Parks and Recreation.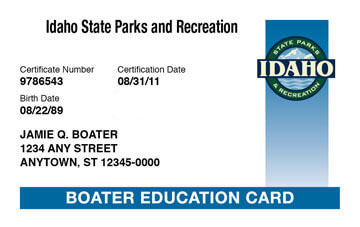 Approved by the
Idaho State Parks and Recreation
Idaho Online Boating Safety Test Chapters
The Idaho boating safety course consists of 9 chapters. At the end of each chapter you can complete a 10-question test that covers all the topics from that Chapter, in preparation for your online boating license test. Since visual aids are so important for a large number of boaters, ALL of our boating license test questions contain fully illustrated images that help explain the concept.
Once the boating safety course is complete, you must answer a 60-question boating license test which will contain test questions from all 9 chapters. Topics include:
Safe boating practices
Boating safety equipment
Safe boat operation
Navigation skills
Emergency practices
Boating rules and regulations
Idaho boating laws
Test Questions are Idaho State Parks and Recreation - Approved, Too
Just like the online course, every boating license test question that cover Idaho boating laws have been reviewed and approved by the Idaho State Parks and Recreation. Questions that cover all other boating safety topics are approved by the National Association of State Boating Law Administrators (NASBLA). Remember that questions on your boating license test will closely resemble questions that you encountered in your boat license practice tests.
Tips on Passing the Boating Safety Tests
Review the boating safety study guide! Before attempting to take a boat license practice test, think back to the study guide. Were there any topics that were not 100% clear, or that you wanted to explore in more detail? If so, take a moment and go review that topic.
Take your time! There's no need to rush through a test or quiz. There is no time limit when you are taking a boating license test, so be sure you read each question fully, and choose the best answer choice. Trying to rush through the test will likely cause you to miss important information.
Review your answers! Each test in the boating safety course is presented one question at a time, but you can use the navigation grid on the right-hand side to move from one question to the next. Before submitting your test answers, take a minute to review all the questions. You might find a question or two where you'll want to rethink your answer choice. Taking the time to review the boating license test questions can mean the difference between a pass and a fail!