Iowa
Boating
Laws & Regulations
Who needs to take the Iowa boaters safety course?
All boaters between the ages of 12 and 18 must have an Iowa Watercraft Safety Certificate to operate any motorized watercraft over 10 HP. BOATERexam.com® is a delegated provider for the Iowa Department of Natural Resources.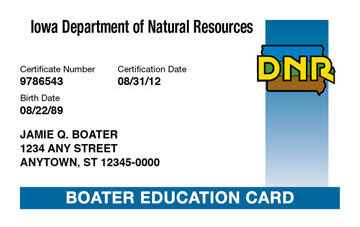 Approved by the
Iowa Department of Natural Resources

Good for life!
Get your official
Iowa Boating License
Iowa boating safety
Education Requirements
In Iowa, anyone who is over the age of 12 but under 18 must carry an Iowa Watercraft Safety Certificate if they are operating a boat over 10hp on state waters. It is illegal for an adult to allow a person in this age range to operate their boat without a valid watercraft safety certificate.
Non-residents
Persons who are visiting Iowa from another state must still comply with Iowa's boating safety requirements. If you have proof of completion of a NASBLA-approved boating safety course from another state (e.g. another state's boater education card or boating license) you can legally operate a vessel in Iowa.
Age Restrictions
No person under the age of 12 may operate a motorboat that is over 10hp, unless accompanied by a responsible and qualified adult who is at least 18 years old.
All children under the age of 13 are required to wear a U.S. Coast Guard Approved PFD at all times while the vessel is underway unless they are below deck, in an enclosed cabin, or if they are a passenger on a commercial vessel that has a capacity for 25 persons or more.