Mississippi
Boating
Laws & Regulations
Who needs to take the Mississippi boaters safety course?
All boaters born after June 30, 1980 who operate any motorized watercraft must have a Mississippi Boater Education Card. BOATERexam.com® is a delegated provider for the Mississippi Department of Wildlife, Fisheries and Parks.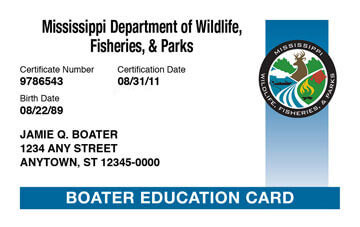 Approved by the
Mississippi Department of Wildlife, Fisheries and Parks

Good for life!
Get your official
Mississippi Boating License
Mississippi Boating Safety Requirements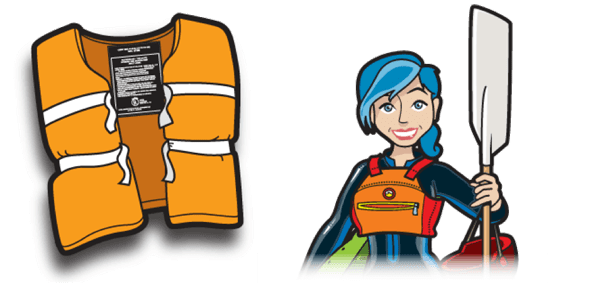 Personal Flotation Devices (PFDs aka Life Jackets)
When boating in Mississippi, you are required to have at least one U.S. Coast Guard-approved Type I, II, III, or V PFD for each person on board, regardless of the length of vessel, and including canoes or kayaks. The PFDs must be readily accessible.
In addition, Mississippi boaters are required to carry at least one Type IV throw-able PFD, either a ring buoy or seat cushion, aboard any vessel 16 feet in length or longer.
---
---
Under Mississippi law, you must also comply with the following PFD regulations.
Flotation devices that are ripped or are in poor condition are not considered approved and therefore should not be used.
Persons being towed behind the boat are considered to be on board.
All persons on a personal watercraft and any person being towed must wear a Type I, II, or III PFD while underway.
PFD Requirements for Children
All boaters or passengers 12 years of age and younger on a vessel that is 26 feet in length or less must wear a PFD while the vessel is underway.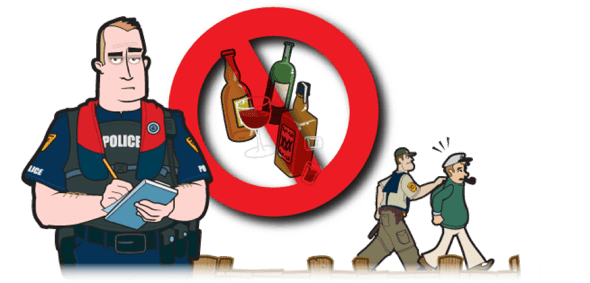 Alcohol & Boating Under the Influence (BUI)
A boater with a blood alcohol content of .08% or more shall be presumed to be under the influence of alcohol. If convicted on a first offence of Boating Under the Influence, or BUI, the boater may face a fine of up to $1,000 and could receive a 2 day jail sentence, and must complete a boating safety course. If a found guilty for BUI a second time within five years, the boater shall be fined, jailed, and will lose their right to boat for one year, and must complete a boating safety course.
In the case of any boating accident resulting in death or serious injury where the operator is found to be under the influence, the operator may be found guilty of a felony offense.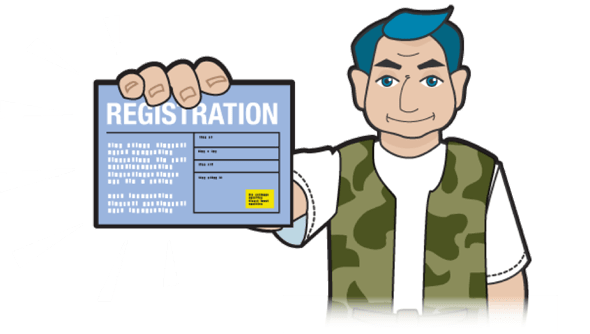 Mississippi Boat Registration
The Mississippi Department of Wildlife, Fisheries and Parks regulates the state boating laws in Mississippi.
All motorized boats, including trolling motors and sailboats principally operated on the public waters of Mississippi, must be registered and issued a Mississippi Certificate of Number or Registration. The Certificate of Number is valid for three years and expires on the last day of the month that it was registered.
---
---
A boat owner may face a misdemeanor charge and a fine ranging from $25 to $250 for not registering their watercraft.
Boat owners may also choose to title their watercraft, although it is not mandatory.
The Certificate of Number and validation decals are required to legally operate a vessel on Mississippi waters.
All motorized vessels, including jet skis, that are used on public waters must be registered.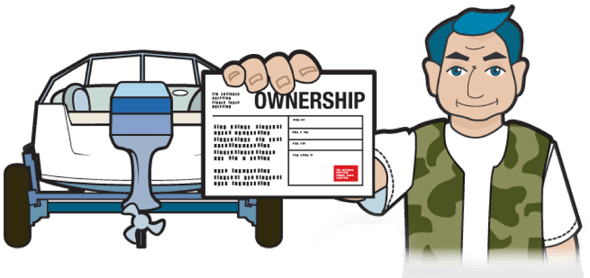 Certificate of Number
The certificate of number, registration and title can be obtained by submitting the proper application and fee to the DWFP.
Boat owners must have at least a temporary Certificate of Number before they can operate in state waters. Once the Certificate is issued, is must be signed and kept on board while the vessel is being operated.
The Mississippi Department of Wildlife, Fisheries and Parks must be notified within 15 days if the boat owner changes residences.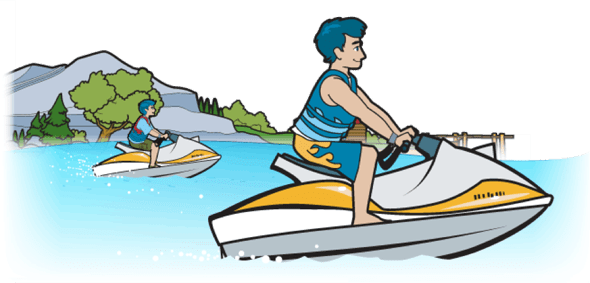 Personal Watercraft Laws & Regulations
Personal watercraft are very powerful for their small size and demand the same respect as any size boat. That means PWC operators must follow the same rules and regulations as powerboat operators, including registering the watercraft with the state and carrying a B-1 fire extinguisher on board.
---
---
There are also some additional requirements for operating a PWC in Mississippi.
The operator and all passengers on a personal watercraft must wear a PFD or lifejacket.
When towing someone on a tube or on water-skis there must be capacity on the PWC to accommodate the operator, the observer and the person being towed.
It is recommended that PWCs being operated in Mississippi waters have a kill switch or lanyard. The lanyard should be fastened to the operator, the operator's clothing or PFD.
Operate at slow 'no wake' speed when:

Within the proximity of a surfer, a swimmer, diving flag, bank or wading angler, dock, swim float, boat launch, ramp, pier, marina, floating home, moorage area, or boathouse as well as shorelines.
Marine waters south of Interstate 10 in Mississippi have some additional requirements:

PWC operated on these waters are required to have a kill switch or lanyard. The lanyard must be fastened to the operator, clothing or PFD.
PWC must not be operated at an excessive speed within 100 feet of another occupied vessel except in a crossing situation or overtaking in accordance with the navigation rules.
Wake jumping cannot be done when within 100ft of another vessel. o PWC are not permitted to follow within 100 feet of a water skier.
---
---
Hours of Operation
It is recommended that PWC only be used during daylight, as most PWC do not have navigation lights.
Restricted Operation
Before operating a PWC, please consult your local marinas or municipalities for the zones of restricted operation. Municipalities may have restricted operation areas.