Boating
Safety Course
Overview
Who needs to take the New Jersey boaters safety course?
All boaters who operate a motorized watercraft in New Jersey must have a New Jersey Boat Safety Certificate. BOATERexam.com® is a delegated provider for the New Jersey State Police.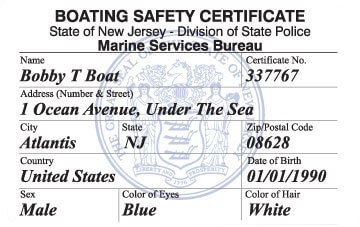 Approved by the
New Jersey State Police

Good for life!
Get your official
New Jersey Boating License
1
Find a proctored
exam in your area
Pay the one-time fee of $34.95
After completing this online course, you are required to take an in-person proctored exam
Make sure to find a proctored exam in your area before starting the online course
2
Study the Online
Boating Safety Course
Learn with hundreds of narrated animations
Test your knowledge with quizzes after each chapter
This course will prepare you for the exam; proctored exams have a 98% pass rate!
3
Take the in-person
proctored final exam
You must bring your printed Final Exam Voucher with you to take the Final Exam
The 60-question written Final Exam is administered by a BOATERexam.com® partner
Get your New Jersey Boating Safety Certificate when you pass!