Pennsylvania
Boating
Laws & Regulations
Who needs to take the Pennsylvania boaters safety course?
All boaters born on or after January 1st, 1982 to operate a motorboat greater than 25HP or who operate a personal watercraft, regardless of age must have a Pennsylvania Boating Safety Certificate. BOATERexam.com® is a delegated provider for the Pennsylvania Fish & Boat Commission.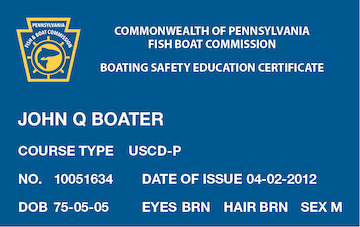 Approved by the
Pennsylvania Fish & Boat Commission

Good for life!
Get your official
Pennsylvania Boating License
Pennsylvania Boating Safety Requirements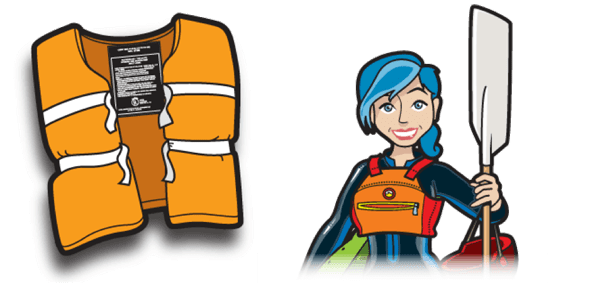 Personal Flotation Devices (PFDs aka Life Jackets)
The Pennsylvania Fish & Boat Commission requires at least one U.S. Coast Guard approved Type IV PFD (ring buoy OR seat cushion) on all recreational boats 16 feet in length or longer, in ADDITION to the wearable PFD required for each person on board all boats. The type IV PFD must be immediately available on the vessel. Exceptions to this requirement include personal watercraft, canoes and kayaks.
---
---
Someone being towed behind a vessel is considered to be on board.
Anyone being towed behind a vessel in any manner must be wearing a U.S. Coast Guard approved type I, II, III or V PFD.
All personal watercraft (PWC) occupants and sailboarders must be wearing their PFD while underway.
Inflatable PFDs are not approved for children nor are they approved for use during high impact sports such as water skiing or operating a PWC.
All persons on board any boat (including canoes and kayaks) which is less than 16 feet in length are required to wear an approved PFD when on the lakes of the Pittsburgh District Army Corps of Engineers.
---
---
All boaters or passengers 12 years of age and younger on board any vessel which is less than 20 feet in length, as well as canoes and kayaks of any length must be wearing an approved PFD while underway.
Beginning November 1 until midnight April 30 of the following year, persons shall wear a Coast Guard approved Type I, II, III or V PFD while underway or at anchor on boats less than 16 feet in length or any canoe or kayak.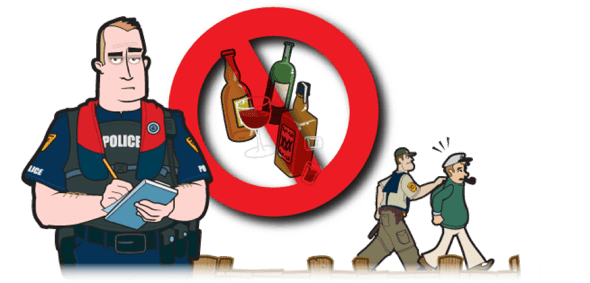 Alcohol & Boating Under the Influence (BUI)
A boater with a blood alcohol content of 0.08% or more shall be presumed to be boating under the influence of alcohol (BUI). Boating under the influence is a serious offense in the state of Pennsylvania and is punishable by up to two years in prison, loss of boating privileges for one year and/or fines of up to $7,500.
PFBC Waterways Conservation Officers have the authority to stop and test a vessel operator if they feel reasonable suspicion exists.
"Zero Tolerance" prohibits persons younger than 21 years of age from consuming alcohol and operating a vessel with any measurable alcohol level above 0.02%.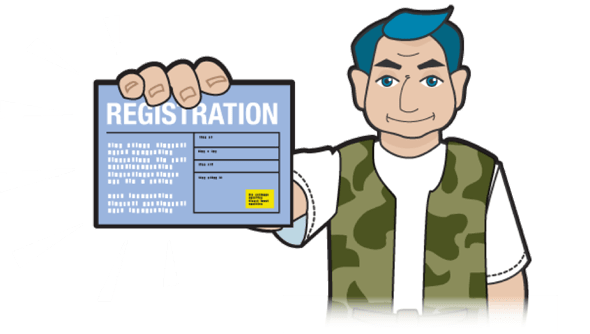 Pennsylvania Boat Registration
The Pennsylvania Fish & Boat Commission is responsible for regulating the state boating laws in Pennsylvania.
All vessels propelled by machinery, including gasoline, diesel and electric motors, and principally operated on Pennsylvania waters must be registered and issued a Pennsylvania Boat Registration Card by the PFBC. Documented recreational vessels such as yachts also need to be registered as well as sailboats that use gasoline, diesel or electric motors for auxiliary power.
---
---
Unpowered boats are not required to be registered – unless being launched at Commission lakes and access areas or Pennsylvania state parks, or if required by the owner (one example is the U.S. Army Corps of Engineers).
Also note that the boat owner is required to obtain their boat title before they can obtain their Certificate of Boat Registration. This requirement applies to the following:
Vessels propelled by an outboard motor which were manufactured in 1997 or later measuring 14 feet or greater.
Vessels propelled by an inboard motor or personal watercraft which were manufactured in 1997 or later.
A certificate of title is a legal document proving ownership.
To obtain a boat title the boat owner must contact the PFBC. The fee for issuance of title is $15 and an additional encumbrance fee of $5 may apply if there is a lien against the boat. The fee for a duplicate title is $5.
Titling your vessel also offers certain advantages. Having your boat titled may make it easier for you to secure a loan and may act as a deterrent to boat theft. Similarly, in the event you were ever to sell your vessel, a title assures potential buyers that you are the clear owner.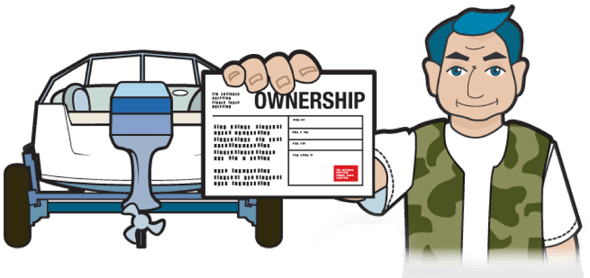 Certificate of Boat Registration
Boat owners must have at least a 60 day temporary Certificate of Boat Registration before they can operate in state waters. Upon receipt of the Certificate of Boat Registration please note the following:
It must be signed and carried onboard when operating the vessel.
It is valid for two years and expires on March 31st of the second year.
The PFBC must be notified within 15 days if the boater changes residences.
The PFBC must also be notified within 5 days if the boat is stolen, sold, destroyed or recovered.
---
---
Vessels that are properly registered in another state do not require a Pennsylvania registration as long as they are operating on Pennsylvania waters for no more than 60 consecutive days.
The Certificate of Boat Registration, validation decals and title are obtained by submitting the proper application and fee to an authorized boat registration agent or to this address:
Pennsylvania Fish & Boat Commission
Licensing and Registration Division
P.O. Box 67000
Harrisburg, PA 17106-7000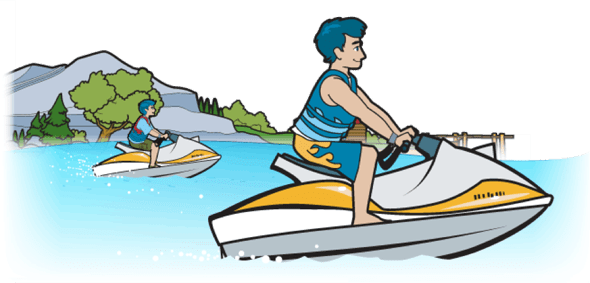 Personal Watercraft Laws & Regulations
Do not underestimate PWCs – they are very powerful for their small size and demand the same respect as any boat. In fact, PWC operation must adhere to the same rules and regulations as any other powerboat – including registration with the state and a B-1 class fire extinguisher aboard.
---
---
PWCs have some additional requirements:
Fire extinguishers, sound producing device, numbers and registration (carry on board) are required when operating a PWC.
The operator as well as all passengers of a PWC must be wearing a PFD at ALL times. Inflatable PFDs are not permitted.
When supplied with a safety lanyard for the kill switch, it must be attached to the operator's body, clothing, or PFD.
When towing someone on a tube or on water skis, there must be capacity on the PWC to accommodate the operator, the observer as well as the skier.
It is illegal to tow more than one skier behind a PWC.
PWCs must stay at a distance of 100 feet from other water skiers or others being towed behind a vessel.
PWCs must operate at slow 'no-wake' speed, maximum 5 mph limit when:

Within 100 feet of a swimmer, surfer, diving flag, bank or wading angler, dock, swim float, boat launch, ramp, pier, marina, floating home, moorage area, or boathouse;
Within 100 feet of any anchored or non-motorized vessel; or
Within 100 feet of shoreline on all lakes, reservoirs, and bays.
---
---
Hours of Operation
PWCs may only be operated between the hours of sunrise and sunset.
In Pennsylvania, all those operating a PWC,
must be at least 12 years old.