South Carolina
Boating
Laws & Regulations
Who needs to take the South Carolina boaters safety course?
All boaters under 16 years of age must have a Boater Education Card to operate any motorized watercraft without adult supervision. BOATERexam.com® is a delegated provider for the South Carolina Department of Natural Resources.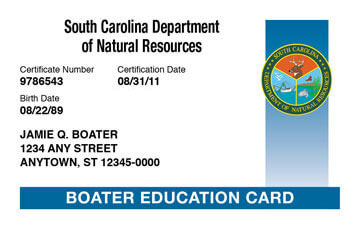 Approved by the
South Carolina Department of Natural Resources

Good for life!
Get your official
South Carolina Boating License
South Carolina boating safety
Education Requirements
All boaters under 16 years of age are required to carry the South Carolina Boating License on board to satisfy state boating regulations while operating on South Carolina's waters.
The online South Carolina Boating License satisfies this state requirement. Passing the online exam allows you to obtain the South Carolina Boater Education Card and get out on the water right away!
Age restrictions
In South Carolina boaters under the age of 16 must complete a boating safety course in order to operate a motorized vessel. Further, an adult must be present on the vessel while anyone under the age of 16 years is operating a vessel, if the vessel has a motor of 15 hp or greater. The same restrictions apply to Personal Watercraft (PWC).
All boaters or passengers 12 years of age and younger on the deck or cockpit of any vessel under 16 feet in length must be wearing their PFD while the vessel is underway.
Important Note
The online boating safety course covers a wide range of operating laws in South Carolina. For a complete listing of South Carolina's boat operating rules and regulations, please consult the South Carolina Department of Natural Resources website at http://www.dnr.sc.gov