Alabama
Boating
Laws & Regulations
Who needs to take the Alabama boaters safety course?
All persons who operate a motorized boat on Alabama waters need to obtain an Alabama Vessel License. You must be at least 12 years old to get your license. BOATERexam.com® is a delegated provider for the ALEA Marine Police Division.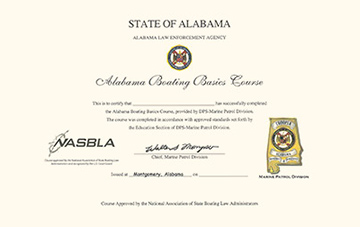 Approved by the
ALEA Marine Police Division

Good for life!
Get your official
Alabama Boating License
Alabama Boating Safety Requirements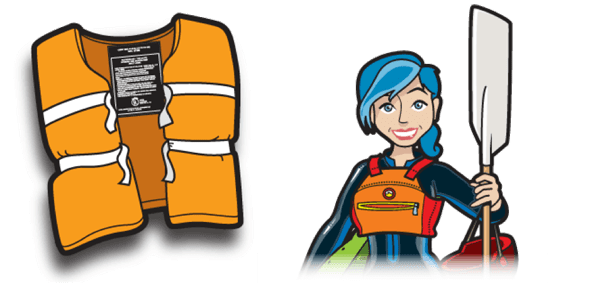 Personal Flotation Devices (PFDs aka Life Jackets)
When boating in Alabama, you are required to have a wearable PFD available for each person on board your boat. In addition, if your vessel is longer than 16 feet, you must also have at least one U.S. Coast Guard approved Type IV PFD, either a ring buoy or seat cushion.
There are some exceptions to this requirement, including:
Personal Watercraft;
Canoes, kayaks; and
Inflatable rafts.
---
---
Passengers being towed behind a vessel must wear a U.S. Coast Guard Approved PFD at all times that is designed for the activity.
All persons on a personal watercraft must wear a PFD while underway.
Inflatable PFDs are not approved for children and should not be used for high impact sports such as water skiing or operating a personal watercraft.
If you are operating a vessel within 800 feet of any hydro-electric dam or navigational lock or dam, all persons on board must be wearing a U.S. Coast Guard approved PFD (either type I, II, III or IV) in accordance with the manufacturer's instructions.
---
---
Child PFD Requirements
All boaters or passengers under 8 years of age are required to wear a PFD while on board, unless they are below deck or in an enclosed cabin.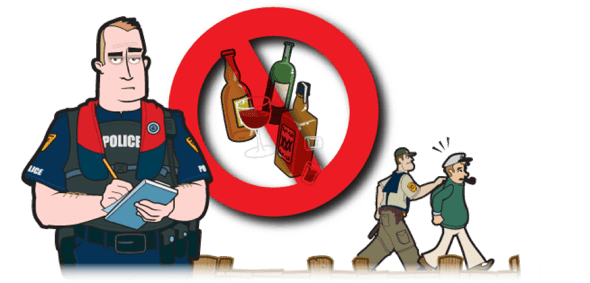 Alcohol & Boating Under the Influence (BUI)
A boater with a blood alcohol content of .08% or more is presumed to be under the influence of alcohol. This also applies to persons under the influence of:
Any controlled substance;
Alcohol and any combination of controlled substances; or
Any substances which mentally or physically impair a person's normal functioning.
---
---
If you are found guilty of Boating Under the Influence, or BUI, your boat operating privileges will be revoked for a period of 90 days, you may face fines of up to $2,100 and also face the possibility of imprisonment for up to one year.
If found guilty of BUI a second time, boat operating privileges will be revoked for a period of one year, you will face fines of up to $5,100, and the possibility of imprisonment for up to one year, but not less than 5 days or a minimum of 30 days of community service.
Upon a third BUI conviction, you will lose your boat operating privileges for a period of three years, face fines of up to $10,100 as well as the possibility of imprisonment for up to a maximum of one year, but not less than 60 days.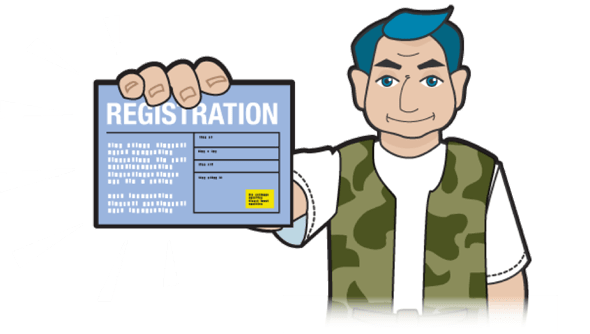 Alabama Boat Registration
The Marine Police Division of the Department of Natural Resources regulates the boating laws in Alabama.
All powered watercraft (including gasoline, diesel and electric motors) that are operated mainly on Alabama waters must be registered. Some vessels are exempt from the boat registration requirements, including those that are:
Non-motorized, not including sailboats and vessels for rental.
Currently registered and kept in another state;
Holding a valid temporary Certificate of Number;
Registered in a country other than the U.S. and using Alabama waters only on a temporary basis;
A ship's lifeboat; or
Owned by either federal, state, county or municipal governments within the U.S.
---
---
To register, renew or transfer ownership, you can visit your local county Judge of Probate or License Commissioner. You can also register or renew your vessel registration, only with proof of payment of sales and use tax, at the Marine Police Division office in Montgomery.
An application can be downloaded and filled out prior to registering at the Probate, License Commissioner's or Marine Police Office. Be sure to bring all documentation such as previous registration, bill of sale, and proof of payment of sales tax with the application.
---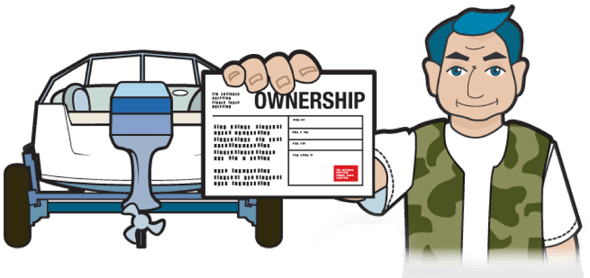 Certificate of Number
As a boat owner in Alabama, you must have at least a valid temporary certificate of number before you can legally operate on state waters. Once the registration has been issued, you are required to:
Sign the certificate and carry it on board when operating; and
Notify the ALEA Marine Police Division within 15 days if you change residences, or if the vessel has been lost, stolen, destroyed, or abandoned.
Your registration is valid for one year from the date of issue. The date of required renewal depends on the first letter of the vessel owner's last name.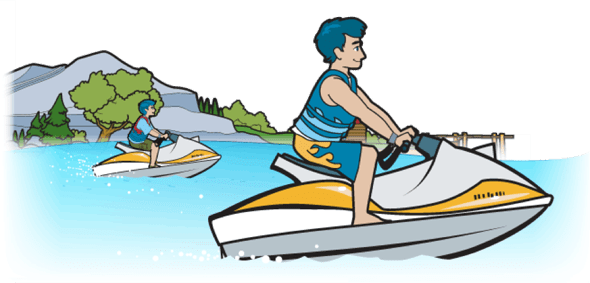 Personal Watercraft Laws & Regulations
Personal watercraft are very powerful for their size and demand the same respect as any boat. Likewise, PWC operators are required to follow the same rules and regulations as any powerboat operator, including registering with the state and carrying a B-1 fire extinguisher on board. In addition, there are specific requirements for PWC operated in Alabama.
---
---
The operator and all passengers of a PWC must wear a U.S. Coast Guard approved PFD at all times.
Persons can only be towed behind a PWC if the watercraft is equipped with rearview mirrors on both the left and right sides. Each mirror must have a viewing area of 2.5 inches in height by 4 inches in width for a total minimum viewing area of 20 square inches. The mirrors must not be attached to the steering portion of the PWC.
Hours of Operation
PWCs may be operated at all hours of the day, but must be fitted with the required lights in order to operate between sunset and sunrise.