Replacement
Alabama
Boating License
Who needs to take the Alabama boaters safety course?
All persons who operate a motorized boat on Alabama waters need to obtain an Alabama Vessel License. You must be at least 12 years old to get your license. BOATERexam.com® is a delegated provider for the ALEA Marine Police Division.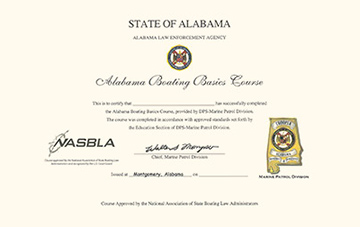 Approved by the
ALEA Marine Police Division

Good for life!
Get your official
Alabama Boating License
Replacement Alabama Boat Operator Certificate
If you have lost your boat operator certificate and need a replacement, you must send a written request to the Alabama Marine Police. Note: There is a $5 duplicate certificate fee. Payment may be made via money order, cashier check, or certified check. Payable to: Marine Police Division.
Send written request to:
AL Law Enforcement Agency
DPS-MARINE POLICE DIVISION
Att: Education Section
P O Box 304115
Montgomery AL 36130-4115
Please include the following information:
Your full name as indicated on your boating license
Your social security number or date of birth
The approximate date you completed your Alabama Boating Safety Course
Your complete, current mailing address
The name of your boating license test provider
AMPD Certification Database
For information on your Boat Operator Certificate or to verify your information in the certification database, you may contact Lisa Miles with the Alabama Marine Police at lisa.miles@alea.gov, or call Lisa at 334-517-2942, or 1-800-272-7930 FREE.
Alabama Boating License or Boat Operators Certification/License... Is there a difference?
The boat operators certification/license is proof that you have successfully completed a boating safety course. The boat operators certification/license does not expire and does not need to be renewed. Therefore, it is NOT a Alabama Boating License!