Illinois
Boating
Laws & Regulations
Who needs to take the Illinois boaters safety course?
Anyone born on or after January 1, 1998 who operates a powered watercraft of 10hp or more needs a Boater Safety Certificate. BOATERexam.com® is a delegated provider for the Illinois Department of Natural Resources.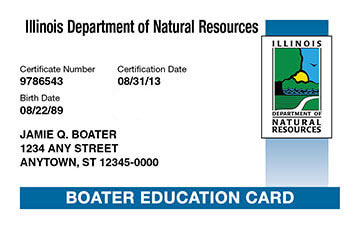 Approved by the
Illinois Department of Natural Resources

Good for life!
Get your official
Illinois Boating License
Illinois Boating Safety Requirements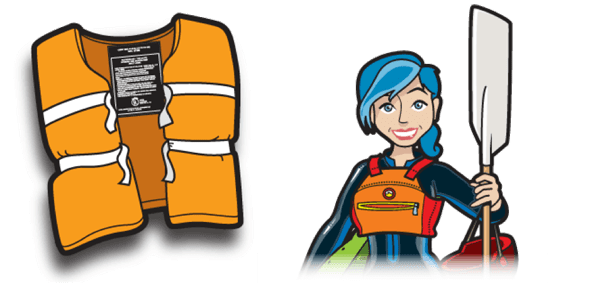 Personal Flotation Devices (PFDs aka Life Jackets)
The Illinois Department of Natural Resources requires one wearable Type I, II, III, or V PFD for each person aboard all vessels. Ensure PFDs are readily accessible.
In addition to the above requirement, Illinois boaters are required to carry at least one Type IV (throwable device) PFD aboard any vessel 16 feet or longer (with the exception of canoes and kayaks).
A Type V PFD is approved for restricted use and may be substituted for a type I, II or III only when used for the activity specified on the label and must be worn.
Flotation devices that are ripped or in poor condition are not considered approved.
Everyone on a personal watercraft or specialty prop-craft must wear a U.S. Coast Guard-approved Type I, II, III or V PFD.
---
---
PFD Requirements for Children
All boaters or passengers under 13 years of age must be wearing their PFD while on the deck or in the cockpit of a vessel underway that is less than 26 feet in length.
No one under 10 years of age may legally operate any type of motorboat.
Persons aged 10 or 11 years may not operate any type of motorboat unless they are supervised by a parent or a guardian, or a competent adult who is at least 18 years old, designated by a parent or a guardian.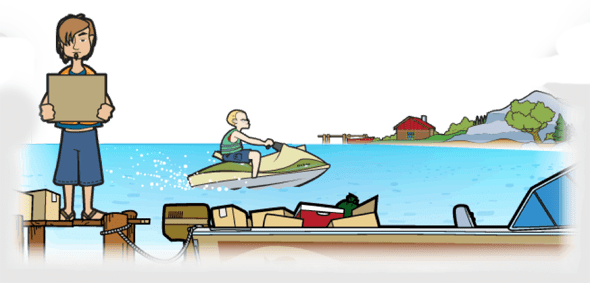 No one who is at least 12 and less than 18 years of age may operate a motorboat unless:
They have in possession a valid Boating Education Certificate of Competency issued by the Illinois Department of Natural Resources, or
They are under the direct supervision of a parent or guardian, or a competent adult who is at least 18 years old, designated by a parent or guardian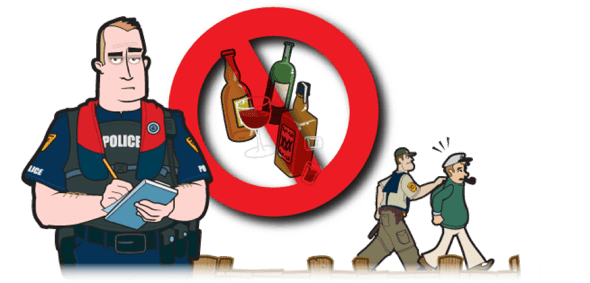 Alcohol & Boating Under the Influence (BUI)
A boater with a blood alcohol content of 0.08% or more shall be presumed to be under the influence of alcohol. This also applies to persons under the influence of any of the following:
Any controlled substance
Alcohol and any combination of controlled substances
Any substances which mentally or physically impair a person's normal functioning.
There is severe injury to any person as a result of the offense;
The person convicted has a prior OUI conviction.
If the death of a person occurs while the operator is OUI, penalties increase to a class 2 felony.
---
---
Additionally, if an operator is convicted of OUI while a child under the age of 16 is on the vessel, they will face a mandatory minimum fee of $500, as well as a minimum 5 days community service, in addition to the penalties stated above.
By operating a boat or PWC on Illinois waters, you have consented to be tested for alcohol or drugs if requested by a law enforcement official. If you refuse to be tested, you will be subject to suspension of the privilege to operate a watercraft for a minimum of 2 years.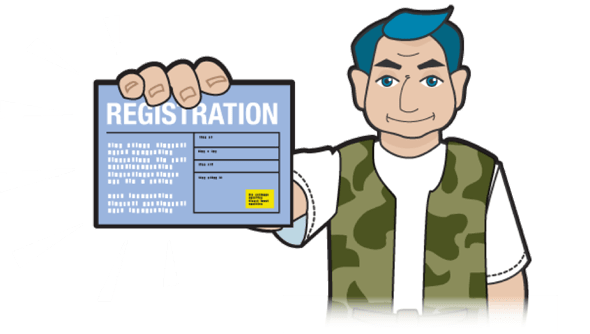 Illinois Boat Registration
The Office of Law Enforcement of the Department of Natural Resources is responsible for regulating the state boating laws of Illinois.
All vessels must have an Illinois certificate of registration and expiration decals to legally operate on public waters in Illinois.
---
---
Exceptions for the boat registration requirements include:
A watercraft which has a valid marine document issued by the U.S. Coast Guard, EXCEPT any documented vessel used upon Illinois waters for more than 60 days in a calendar year.
Vessels registered in another state and operated on Illinois waters for not more than 60 consecutive days.
Sailboards
Non-powered watercraft owned and operated on water located entirely on land belonging to the owner of the watercraft.*
Vessels operated on private lakes
Vessels owned by the federal government.
Non-profit organization-owned canoes or kayaks*
A watercraft from another country other than the United States temporarily using the waters of the State.
A vessel used exclusively as a ship's lifeboat; and
Watercraft competing in a race approved by the Department of Natural Resources.
*Although canoes and kayaks that do not have a mechanical means of propulsion, and vessels that are federally documented do not have to display the registration number, they are still required to display the registration decal.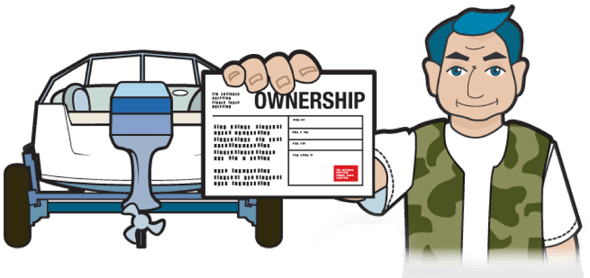 Certificate of Number
The certificate of registration indicates the number that must be displayed on the bow of the vessel. The certificate must be kept on board and available for inspection by an enforcement officer whenever the boat or PWC is being operated.
Registration information must be kept current:
The boats registration is valid for a period of three (3) years. All certificates expire on June 15 of the third year.
If you change address, you must notify the Department of Natural Resources within 15 days of the change.
You must report to the local Department of Natural Resources within 15 days if your boat is destroyed, or transfers ownership.
If you lose or destroy your certificate of registration or decal you must apply to the Department of Natural Resources for a duplicate.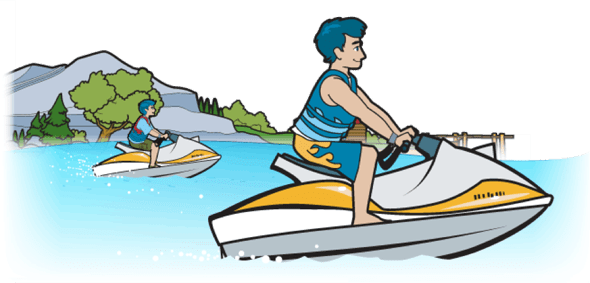 Personal Watercraft Laws & Regulations
Do not underestimate Personal Watercrafts (PWC) - they are very powerful for their small size and demand the same respect as any boat. In fact, PWC operation must adhere to the same rules and regulations as any other powerboat - including registration with the state and a B-1 class fire extinguisher aboard. PWCs have some additional requirements:
Each person riding on a PWC must wear a U.S. Coast Guard-approved wearable personal flotation device. Recommended PFDs are designed to withstand the impact of hitting the water at high speed.
PWCs must either be equipped with an ignition safety switch or have a self-circling feature in case the operator falls off. An operator of a PWC equipped with lanyard-type ignition safety switch must always attach the lanyard to his or her person, clothing, or PFD.
It is illegal to operate a PWC while you are under the influence of alcohol or drugs.
---
---
You must operate a PWC in a reasonable and prudent manner. It is illegal to endanger human life, safety, or property. You may not:
Weave through congested traffic,
Follow a vessel that is towing other individuals,
Jump the wake of another vessel,
Cut between a boat and an individual being towed,
Cross paths with another vessel when vision is obstructed,
Steer toward an object or person in the water and turn sharply at close range, or
Operate while facing backwards.
Hours of Operation
Operation of a PWC is prohibited between sunset and sunrise.
Age Requirements
Personal Watercraft (PWC) operators in Illinois must be at least 10 years of age. Persons who are at least 10 years of age but less than 12 must be under direct control of a responsible person who is at least 18 years of age in order to operate.
All persons who are at least 12 years of age but less than 18 must either complete a boating safety course and have a Boating Safety Education Certificate, or be accompanied and under the direct control of a responsible person who is eighteen or older, in order to operate a PWC.