Massachusetts
Boating
Laws & Regulations
At BOATERexam.com®, we're happy to provide a free online study guide to help you prepare for your required classroom-based boating safety course. This online study guide is not a substitute for the 8-hour class required to obtain certification. BOATERexam.com® is a delegated provider for the Massachusetts Environmental Police.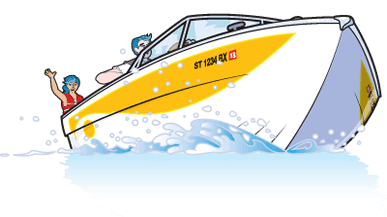 Approved by the
Massachusetts Environmental Police
Who can operate a boat and/or personal watercraft in Massachusetts?
In Massachusetts, no person under 12 years of age may operate a motorized boat, unless accompanied on board and directly supervised by a competent person 18 years of age or older.
Youth under the age of 16 are not allowed to operate a personal watercraft under any circumstances.
What is a Massachusetts Boating Safety Certificate?
The Massachusetts Boating Safety Certificate (often incorrectly referred to as the Massachusetts boating license) is proof that a boater has completed a state-approved 10-12 hour classroom-based boater education course.
Who is required to have a Massachusetts Boater Safety Certificate?
Persons between 12 and 15 years of age must complete a state-approved basic boating classroom course in order to operate a motorized boat without adult supervision. Upon successful completion of the mandatory course, students are issued a state Boating Safety Certificate which must be carried on board at all times while the vessel is underway.
Personal watercraft operators who are 16 or 17 years of age must also complete a state-approved basic boating classroom course to legally operate a PWC.
The minimum age to obtain a Boating Safety Certificate is 12 years of age. Students must be at least 12 years of age to register for a state boating safety classroom course.
For a list of classroom courses, please visit www.mass.gov.
How can I prepare for the classroom-based boating safety certification course?
BOATERexam.com® offers a free online safe boating study guide which covers all of the boating safety basics that you will learn in your classroom course. The BOATERexam.com® study guide has been reviewed by Massachusetts Environmental Police to include state specific boating information for Massachusetts. You can also use our optional practice quizzes at the end of each chapter to test your knowledge of the information. The BOATERexam.com® study guide and practice quizzes can be accessed anytime, and you can log in and out to review the study guide at your own pace.
Where can I get more information about Massachusetts boating regulations and the Massachusetts Boater Safety Certificate?
Answers to most of your questions about the Massachusetts Boating Safety Certificate can be found by viewing our Frequently Asked Questions. You may also visit the Massachusetts Environmental Police for additional information, or you can contact us and we will be glad to answer any of your questions.