Replacement
Massachusetts
Boating License
At BOATERexam.com®, we're happy to provide a free online study guide to help you prepare for your required classroom-based boating safety course. This online study guide is not a substitute for the 8-hour class required to obtain certification. BOATERexam.com® is a delegated provider for the Massachusetts Environmental Police.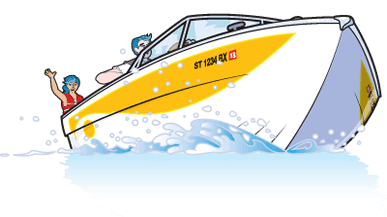 Approved by the
Massachusetts Environmental Police
Replacement Massachusetts Boater Safety Certificate
If your Massachusetts Boater Safety Certificate has been lost or damaged, you should contact the organization that issued the certificate to request a replacement card. You'll need to provide the date and location where you took the course.
Organizations Offering Approved Boating Classes
Boat Massachusetts
508-564-4961
US Coast Guard Auxiliary
800-848-3942 ext. 8309
US Power Squadrons
800-336-2628
New England Maritime
508-790-3400
Boatwise
800-698-7373
Duxbury Bay Maritime School
781-934-7555
Boat Safe Massachusetts
508-477-9999
Massachusetts Boating License or Boater Safety Certificate... Is there a difference?
The boater safety certificate is proof that you have successfully completed a boating safety course. The boater safety certificate does not expire and does not need to be renewed. Therefore, it is NOT a Massachusetts Boating License!