Montana
Boating
Laws & Regulations
Who needs to take the Montana boaters safety course?
All boaters 13 or 14 years old must have a Montana Boater Education Card to operate any motorized watercraft over 10 HP. BOATERexam.com® is a delegated provider for the Montana Fish, Wildlife & Parks.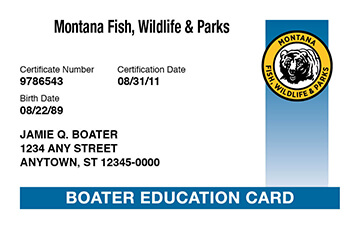 Approved by the
Montana Fish, Wildlife & Parks

Good for life!
Get your official
Montana Boating License
Montana Boating Regulations and Laws
The Montana Boater Education Card (also referred to as the Montana boating license) is proof that a boater has taken and passed an approved boater education course. The Montana Fish, Wildlife & Parks currently offers a Boater Education Card to prove that you are a safe boater. This can have benefits such as savings on marine insurance.
Many boating fatalities occur because boaters aren't educated about boating safety. The Montana Fish, Wildlife & Parks believes that an educated boater is a safer boater.
Where can I take my safe boating exam and get my Boater Education Card?
You can take your safe boating exam directly on the Internet at BOATERexam.com®. Once you pass the exam your boater education card is mailed to your home. In the meantime, you can print off a Certificate of Completion that can be used as a temporary card to satisfy the Montana boating regulations until your permanent boater education card arrives.
Where can I get the boater safety education course material?
Where can I get more information about Montana boating regulations and the Montana boater education card?
Answers to most of your questions about the Montana boater's license can be found by viewing our Frequently Asked Questions. You may also visit the Montana Fish, Wildlife & Parks for additional information, or you can contact us and we will be glad to answer any of your questions.
Did you know?
Many boaters incorrectly use the term "Montana Boating License" when referring to their Boater Education Card. The Boater Education Card is NOT a boating license. Unlike a driver's license, your Boater Education Card cannot be revoked and is good for life.
Education Requirement
A Montana Boating License is required for all persons 13 and 14 years of age* who operate a powered vessel over 10 hp on Montana waters.
* Unless accompanied by someone 18 years of age or older.