Replacement
Montana
Boating License
Who needs to take the Montana boaters safety course?
All boaters 13 or 14 years old must have a Montana Boater Education Card to operate any motorized watercraft over 10 HP. BOATERexam.com® is a delegated provider for the Montana Fish, Wildlife & Parks.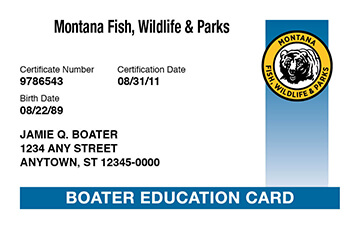 Approved by the
Montana Fish, Wildlife & Parks

Good for life!
Get your official
Montana Boating License
Replacement Montana Boater Education Card
If your Montana Boater Education Card is lost or damaged, please visit www.ilostmycard.com to order a replacement.
Montana Boating License or Boater Education Card... Is there a difference?
The boater education card is proof that you have successfully completed a boating safety course. The boater education card does not expire and does not need to be renewed. Therefore, it is NOT a Montana Boating License!