Boating
Safety Course
Overview
Who needs the New York State Boating Safety Certificate?
All boaters born on or after May 1st, 1996 are required to successfully complete an approved boater education course in order to operate a motorboat. BOATERexam.com® is a delegated provider for the New York State Parks.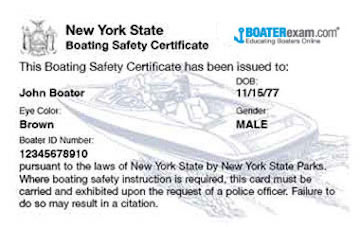 Approved by the
New York State Parks

Good for life!
Get your official
New York Boating License
1
One-time payment
unlimited free retries
Pay the one-time fee of $34.95
Free unlimited retries of the final exam
2
Study the Online
Boating Safety Course
Learn with hundreds of narrated animations
Test your knowledge with quizzes after each chapter
60 multiple-choice visual exam questions
80% required to pass (48 correct answers)
Graded immediately so you can review your answers
3
Get your New York
State Boating Safety Certificate
Print a temporary card immediately after passing
Your permanent card will be mailed to your home within 3-5 weeks