New York
Boating
Laws & Regulations
Who needs to take the New York boaters safety course?
All boaters born on or after May 1st, 1996 are required to successfully complete an approved boater education course in order to operate a motorboat. BOATERexam.com® is a delegated provider for the New York State Parks.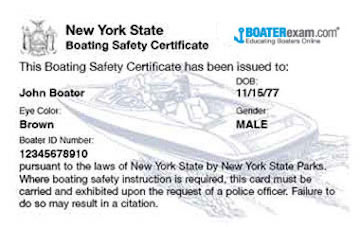 Approved by the
New York State Parks

Good for life!
Get your official
New York Boating Card
New York Boating Safety Requirements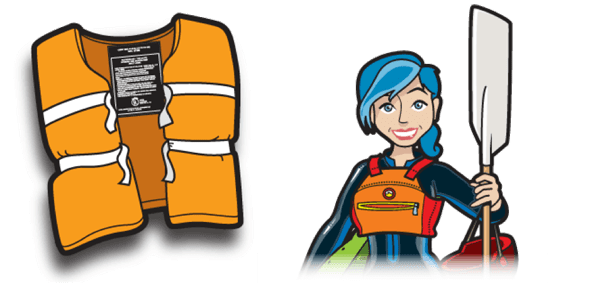 Personal Flotation Devices (PFDs aka Life Jackets)
Every pleasure vessel including canoes, kayaks and rowboats operated upon the waters of NYS must have on board one United States Coast Guard approved wearable Personal Flotation Device (PFD) for each person on the vessel.
---
---
The state of New York requires one wearable Type I, II, III, or V PFD for each person that is aboard a vessel. All PFDs must be readily accessible.
In addition to the above requirement, one Type IV U.S. Coast Guard-approved PFD must be on board vessels 16 feet or longer and readily accessible.
Type V PFDs are approved but must be worn to be considered legal.
Flotation devices that are ripped or in poor condition are not considered approved.
All Personal Watercraft (PWC) occupants must be wearing a PFD.
Any person towed behind a vessel must be wearing a PFD.
All persons on any vessel (this includes motor boats, sailboats, kayaks, canoes, or rowboats) less than 21 feet, must wear a life jacket from November 1 to May 1 when underway.
---
---
Children under 12 years of age, on any vessel 65 feet or less in length must wear a U.S. Coast Guard approved type I, II or III PFD, while underway.
The foregoing requirements do not apply to children less than 12 years of age when situated within a fully enclosed cabin.
In order for any PFD to be considered properly worn all straps and/or zippers must be tied or zipped.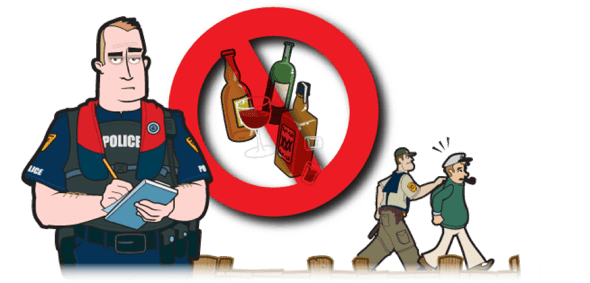 Alcohol & Boating Under the Influence (BUI)
No one may operate a vessel on the waters of New York State while impaired or intoxicated either through the consumption of alcohol or drugs. New York law prescribes heavy fines, imprisonment, and the suspension of operator privileges for violators. In New York, if you are stopped for suspicion of impaired operation and refuse to voluntarily submit to a breath test, your privilege to operate may be immediately suspended, pending a hearing. A person shall be considered under the influence of alcohol if the ratio of alcohol in the blood is 0.08 per cent or more.
---
---
Zero Tolerance under 21
If the operator is under 21 years of age and is caught drinking while operating a vessel, their operating privileges will be suspended or revoked.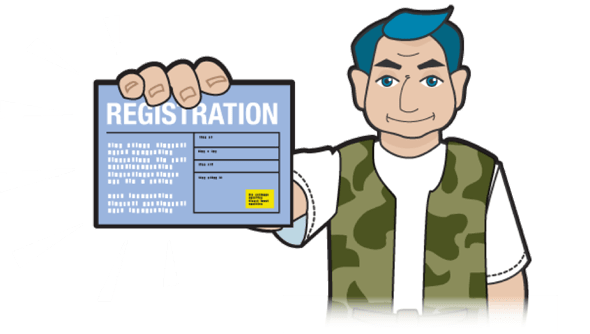 New York Boat Registration
TheNew York State Parks regulates the state boating laws in the state of New York.
All vessels propelled by machinery, including gasoline, diesel and electric motors, and principally operated on New York waters must be registered and issued a New York Certificate of Registration by the New York State Department of Motor Vehicles.
---
---
The following vessels are exempt from state registration requirements:
vessels operating commercially with either a U.S. or foreign document
vessels legally registered in another state (up to 90 consecutive days maximum)
foreign registered boats temporarily using New York State waters
lifeboats (not including tenders and dinghies)
competition race boats
non-mechanically propelled vessels; and
government vessels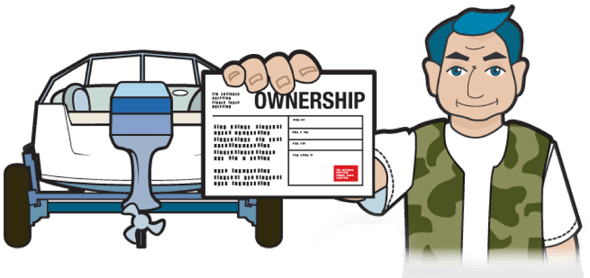 Certificate of Registration
The registration certificate is your proof of current registration. It may also be your only proof of ownership unless the vessel is titled or documented.
Vessel operators, whether they are the owner or not, must carry the vessel's original certificate of registration onboard at all times.
---
---
Change of Ownership
When a vessel is sold, the certificate of registration or title must be signed over to the new owner. The original owner should notify the Department of Motor Vehicles of the name and address of the new owner, as well as the date of transfer and the registration number of the vessel. In order to protect yourself when transferring ownership of any vessel, the validation stickers should be removed from the hull prior to turning the boat over to the new owner. This will ensure that the new owner will not use the vessel until it has been properly registered with Motor Vehicles in his or her name.
Change of Address
The owner of any registered vessel must notify the Department of Motor Vehicles within ten (10) days of a change in address. This change should also be noted on the registration certification.
Boat Lost or Stolen
If a boat is stolen, lost, abandoned, or destroyed, the owner must notify the Department of Motor Vehicles in writing within fifteen (15) days. The local law enforcement agency should be notified when a lost or stolen boat is recovered.
Renewals
The Department of Motor Vehicles will send you a registration renewal at the appropriate time. Check to see that all information on the renewal is correct, then sign and return the renewal notice along with the specified fee.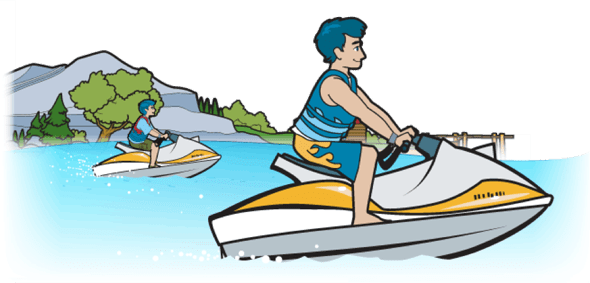 Personal Watercraft Laws & Regulations
State law specifically regulates the operation of personal watercraft (PWC), and while most sections of the navigation law also apply to all PWC.
The following are specific regulations regarding their operation:
---
---
PWC LAWS AND REGULATIONS
PFDs
must be worn by each person on or towed behind (strength tested models recommended). Fully inflatable PFDs must not be used.
Engine Cutoff (Lanyard)
if so equipped must be functional and attached to the operator.
Horn, Whistle
capable of a two second blast, audible ½ mile must be carried aboard.
Visual Distress Equipment (VDS)
a fluorescent orange flag (1 foot square) or other appropriate U.S. Coast Guard approved distress signaling device must be carried aboard.
Backfire Flame Arrestor
manufacturer installed, must not be removed as it prevents explosion/fire.
Ventilators
manufacturer installed, do not remove, removes potentially explosive vapors from engine/fuel space.
Hours of Operation
Personal watercraft may only be operated between sunrise and sunset. The installation of an aftermarket light kit will NOT allow you to legally operate a PWC at night.
Important Note
Although an anchor and fire extinguisher are not required under state law, Federal rules do require a fire extinguisher on board all PWCs.