Boating
Safety Course
Overview
Who needs to take the Texas boaters safety course?
All boaters born after September 1, 1993 must have a Texas Boater Education Certificate to operate motorized watercrafts over 15HP or wind-blown vessels over 14ft. BOATERexam.com® is a delegated provider for the Texas Parks and Wildlife.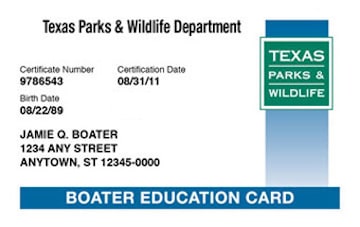 Approved by the
Texas Parks and Wildlife

Good for life!
Get your official
Texas Boating License
1
One-time payment
unlimited free retries
Pay the one-time fee of $34.95 + $10 state fee
Free unlimited retries of the final exam
2
Study the Online
Boating Safety Course
Learn with hundreds of narrated animations
Test your knowledge with quizzes after each chapter
75 multiple-choice visual exam questions
80% required to pass (60 correct answers)
Graded immediately so you can review your answers
3
Get your Texas
Boating Safety Education Certificate