Texas
Boating
Laws & Regulations
Who needs to take the Texas boaters safety course?
All boaters born after September 1, 1993 must have a Texas Boater Education Certificate to operate motorized watercrafts over 15HP or wind-blown vessels over 14ft. BOATERexam.com® is a delegated provider for the Texas Parks and Wildlife.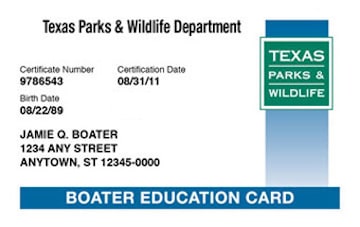 Approved by the
Texas Parks and Wildlife

Good for life!
Get your official
Texas Boating License
Texas Boating Safety Requirements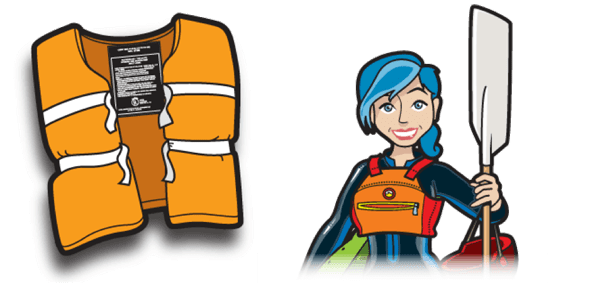 Personal Flotation Devices (PFDs aka Life Jackets)
All life jackets must be U.S. Coast Guard approved, in serviceable condition, readily accessible, and of the appropriate size for intended user.
All children under 13 years of age in all vessels under 26 feet in length must wear a U.S. Coast Guard approved wearable life jacket while underway. Underway means not at anchor, made fast to the shore, or aground.
All vessels, including canoes, paddle craft, and kayaks, must be equipped with one Type I, II, III or V wearable life jacket for each person on board. A Type V life jacket is acceptable only if used in accordance with the specific instructions on the label of the device.
Vessels 16 feet and longer, excluding canoes and kayaks, are required to be equipped with one Type IV throwable personal floatation device in addition to the Type I, II, III, or V life jacket required for each person on board.
Inflatable life jackets are authorized only when used in accordance with requirements as presented on U.S. Coast Guard approval labels.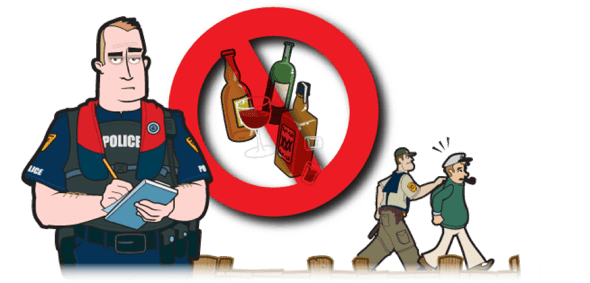 Alcohol & Boating Under the Influence (BUI)
It is unlawful for any person to operate while intoxicated*. First conviction is punishable by a fine not to exceed $2,000, confinement in jail not to exceed 180 days or both. A second conviction is punishable by a fine not to exceed $4,000, confinement not to exceed one year or both. A third conviction is punishable by a fine not to exceed $10,000, imprisonment for not more than 10 years or less than 2 years.
*Operating while intoxicated means the loss of mental of physical faculties, or blood alcohol content of .08 or higher.
**Failure to submit a specimen to determine blood alcohol content may result in suspension of your driver's license.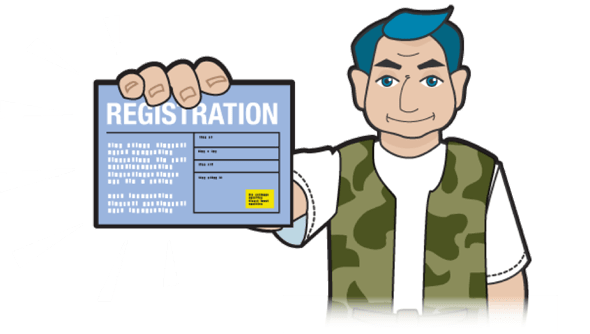 Texas Boat Registration
The Texas Parks and Wildlife is responsible for regulating the boating and water safety laws in Texas.
The following vessels must be titled and registered in Texas:
All motorized boats, regardless of length;
All sailboats 14 feet in length or longer or any sailboat with an auxiliary engine(s);
USCG Documented vessels must be registered (no title will be issued);
ALL internal combustion (gasoline/diesel powered) outboard motors must be titled;
Trailers are registered/titled through your county tax office.
---
---
Title applications and manufacturer's statement of origin (MSO) must accompany a request for boat registration for new boats and outboard motors. Do not purchase a used boat or outboard motor without receiving a signed title and a bill of sale from the person(s) listed on the title or from their legally documented representative. If a legal representative signs the title and bill of sale for the recorded owner(s), you must obtain a copy of the documentation authorizing them to act on behalf of the owner(s).
Exempted vessels – All (non-motorized) canoes, kayaks, punts, rowboats, paddle craft, or rubber rafts (regardless of length) as well as other vessels that are paddled, poled, oared, or windblown, including sailboats, that are under 14 feet in length.
Online Boat Registration: tpwd.texas.gov/fishboat/boat/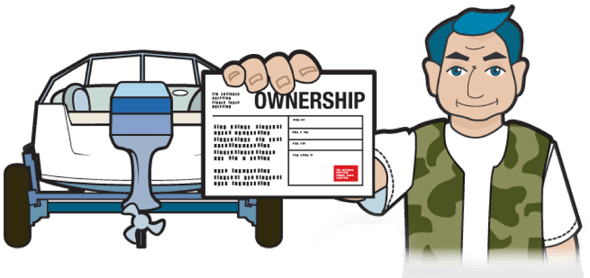 Certificate of Number
Note: Upon the sale or transfer of a titled vessel or outboard motor, the seller(s) must relinquish their interest by signing the back of the title and printing the purchaser(s) name and address. Brown colored titles (newer format for boats and motors) have spaces on the back of the title to fill in for the bill of sale information. The title must be provided to the purchaser(s).
The certificate of number (registration), if required:
Must always be aboard and available for inspection by an enforcement officer;
Is valid for the two-year period shown on the certificate; and
Must also be aboard USCG Documented vessels that require Texas registration.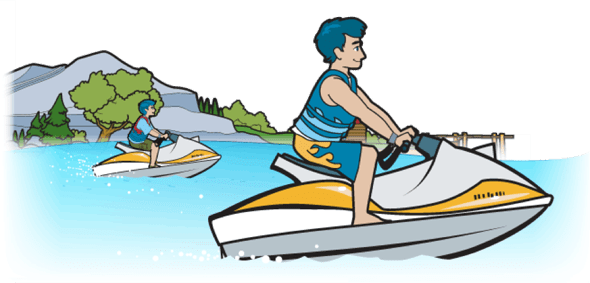 Personal Watercraft Laws & Regulations
Do not underestimate PWCs - they are very powerful for their small size and demand the same respect as any boat. In fact, PWC operation must adhere to the same rules and regulations as any other powerboat - including registration with the state and a B-1 class fire extinguisher aboard.
Hours of Operation
PWCs may only be operated between the hours of sunrise and sunset. It is prohibited to operate a PWC outside of these hours.
---
---
PWCs have some additional requirements:
Anyone on or being towed by a PWC must at all times be wearing a coast guard approved life jacket, whether it's type I, II, III or V. Inflatable life jackets are not approved for use when operating, riding or being towed by a PWC. Note: Anyone being towed is considered a passenger and must be included in maximum capacity considerations.
Make sure the lanyard is always securely attached to the operator, his clothing or his life jacket.
PWCs may not jump the wake of another watercraft in a reckless manner within 50ft or less of any vessels.
PWCs must operate at slow 'no-wake' speed, maximum 5 mph limit when:

Within 50ft of a swimmer, surfer, diving flag, bank or wading angler, dock, swim float, boat launch, ramp, pier, marina, floating home, moorage area, or boathouse;
Within 50ft of any anchored or non-motorized vessel; or
Within 50ft of shoreline on all lakes, reservoirs, and bays.