Virginia
Boating
Laws & Regulations
Who needs to take the Virginia boaters safety course?
All PWC operators age 14 and older and all motorboat operators regardless of age need to take the boating safety course. BOATERexam.com® is a delegated provider for the Virginia Department of Wildlife Resources.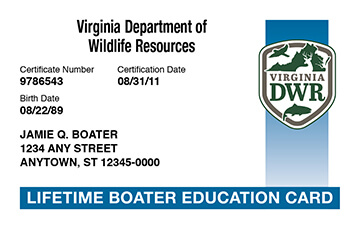 Approved by the
Virginia Department of Wildlife Resources

Good for life!
Get your official
Virginia Boating License
Virginia Boating Safety Requirements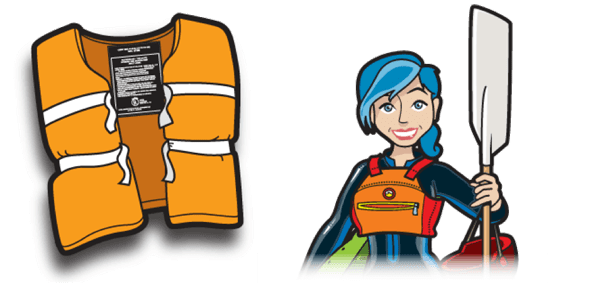 Personal Flotation Devices (PFDs aka Life Jackets)
In addition to the requirement for a wearable PFD for each person on board a vessel, the state of Virginia requires at least one U.S. Coast Guard approved Type IV throwable PFD (ring buoy OR seat cushion) on all vessels 16 feet or greater in length, except for:
personal watercraft (PWC)
non-motorized canoes and kayaks 16 feet or greater in length
racing shells, rowing sculls, racing canoes and racing kayaks
sail boards
vessels of the United States used by foreign competitors while practicing for or racing in competitions
---
---
Note
Anyone on board a PWC is required to wear a U.S. Coast Guard approved Type I, II, III, or V PFD.
Inflatable PFDs are not approved for high impact water sports such as water skiing or riding on a PWC.
Child PFD Regulations
According to Federal Law, all boaters or passengers under the age of 13 must be wearing their PFD while the vessel is underway unless they are below deck or in an enclosed cabin. In Virginia, this rule is enforced by the U.S. Coast Guard and applies on waters over which they have enforcement jurisdiction.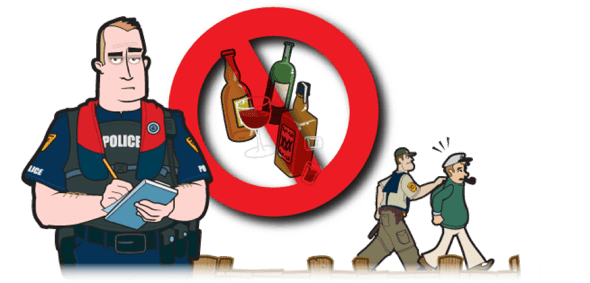 Alcohol & Boating Under the Influence (BUI)
A boater with a blood alcohol content of .08% or more shall be presumed to be under the influence of alcohol. The penalties include the following:
Fines up to $2,500, and/or,
Imprisonment of up to twelve months, and/or,
Revocation of the privilege to operate a vessel on state waters for up to a three year period, and/or,
Mandatory enrollment in The Virginia Alcohol Safety Program.
---
---
By operating on Virginia waterways, an operator is deemed to have given consent to a breath and/or blood test to determine the amount of alcohol and/or drugs in their blood.
Refusal to submit to a test may constitute grounds for the revocation of the operator's boating privileges.
"Zero Tolerance" prohibits persons younger than 21 from consuming alcohol and operating a vessel with any measurable alcohol level.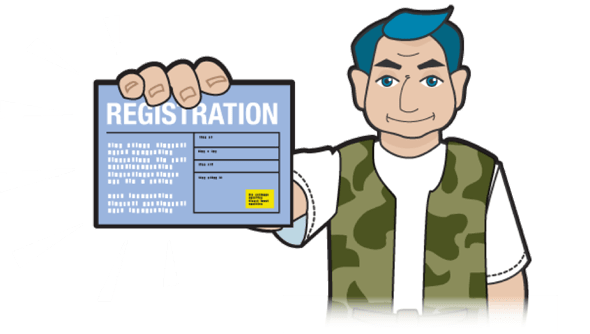 Virginia Boat Registration
The Virginia Department of Wildlife Resources is responsible for regulating the state boating laws in Virginia.
All boats propelled by machinery, including gasoline, diesel and electric motors regardless of whether or not the machinery is the principal source of propulsion, and principally operated on Virginia waters must be registered and issued a Virginia Certificate of Number (Registration) by the DGIF.
---
---
Exemptions for boat registration include:
Vessels used only on private waters
Canoes and other manually or sail powered vessels(excludes sail powered vessels less than 18 feet in length even without propulsion)
Vessels currently registered in another state and not kept in Virginia for more than 90 consecutive days
In addition, all motorized vessels requiring registration must be issued a Certificate of Title before they can legally be operated on Virginia's waterways. This also applies to any sail-powered vessel in excess of 18 feet in length even if they do not have a motor.
Watercraft documented by the United States Coast Guard cannot be titled, however the owner of a documented watercraft may apply to DGIF for a state registration decal.
If a boat has been previously registered in Virginia, the new owner may operate the vessel for thirty days from the date of purchase with a dated bill of sale and the valid Certificate of Number of the former owner.
Title, registration, and license plates for your watercraft trailer are purchased through the Virginia Department of Motor Vehicles (DMV).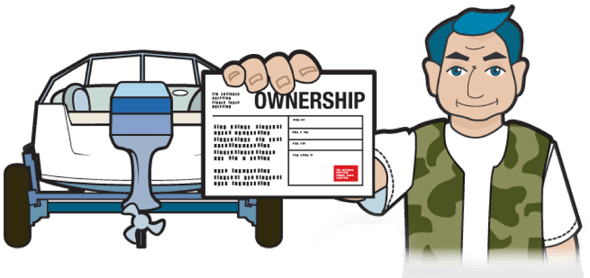 Certificate of Number
Once in receipt of the application and required fees, the DGIF will issue a title, which is proof of ownership, and a Virginia Certificate of Number. This pocket-sized Certificate of Number is your registration card. Upon receipt of the Certificate of Number please note the following:
It is valid for three years and must be renewed at the end of the third year.
It must be signed and carried on board when operating the vessel.
The number issued to a boat appears on the certificate and is to be displayed on each side of the forward half of the vessel.
---
---
Decals are furnished with each Certificate of Number and indicate the month and year of expiration and the registration number assigned to your vessel.
The decal must be displayed within 6 inches of the registration number on the boat for which they were issued. Only the current decal may be visible.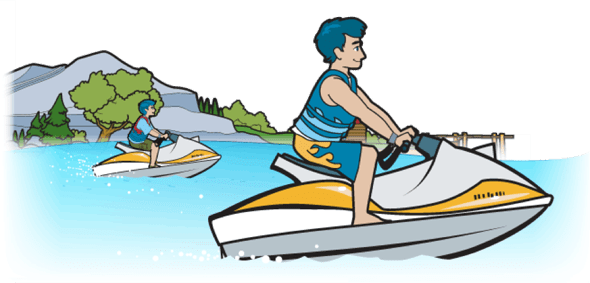 Personal Watercraft Laws & Regulations
Do not underestimate PWCs – they are very powerful for their small size and demand the same respect as any boat. In fact, PWC operation must adhere to the same rules and regulations as any other powerboat – including registration with the state and a B-1 class fire extinguisher aboard.
---
---
PWCs have some additional requirements:
Every person on board and anyone being towed behind a personal watercraft (PWC) must wear a Coast Guard approved Type I, II, III or V personal flotation device (PFD).
Inflatable PFDs are not intended for use while participating in tow sports or other high impact sports, and do not meet the wear requirements for PWC operation.
PWCs must come to "no wake" speed when within 50 feet or less of docks, piers, boathouses, boat ramps, or people in the water and vessels other than personal watercraft. This does not prohibit the pulling of a skier with a rope less than 50 feet.
Hours of Operation
Personal watercraft may only be operated during daylight hours (sunrise to sunset).
Important Notes
No person 13 years of age or younger may operate a PWC. PWC operators who are 14 and 15 years old must have proof of successful completion of a NASBLA-approved Boating Safety Course.
The Boater Education Card must be carried on board at all times while operating.