Children's Life Jacket Recommendations & Requirements
Children and Personal Flotation Devices
Children need to wear PFDs whenever they are around the water. They also need to be taught how to properly wear a PFD and get used to wearing one.
Understandably, children often panic when they suddenly fall into the water. Panicking can make it difficult for the child to float face up, even when wearing a PFD. So, children should get used to wearing a PFD in the water before heading out on vessel.
It's also critical that a child's lifejacket fit properly; careful consideration must always be given when choosing an infant or child-sized PFD. After buying a PFD, you'll also want to test the fit in safe and shallow water.
How Should a Life Jacket Fit a Child?
The fit must be snug enough that the child must not be able to slip out of the lifejacket!
Life jackets for infants and smaller children (less than 50 pounds) should have a crotch strap to ensure a snug fit, as well as a large float collar for head support. A good way to test a child's lifejacket is to pick the child up by the shoulders of the PFD. If you've got the right fit, the PFD will not slip above the child's chin and ears. Before buying a lifejacket for a child, always check the user label. The user label will indicate the weight range for which the lifejacket is approved. This table provides a guide of lifejacket sizes and weight ranges.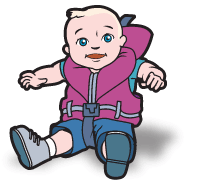 | | Infant | Child Small | Child Medium | Child Large |
| --- | --- | --- | --- | --- |
| Size | Less than 30 lbs | 30-50 lbs | 30-50 lbs | 50-90 lbs |
| Age | Newborn to 2 years | 2 to 5 years | 4 to 8 years | 6 to 12 years |
| Chest Size | 16 - 20" | 20-23" to 23-25" | 21-25" | 26-29" |
Federal PDF Requirements For Children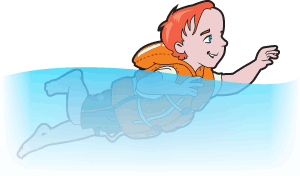 Children's life jacket requirements vary from state to state, however, federal law requires that all children under the age of 13 wear a lifejacket on a moving boat.
The only exceptions to this rule are if the child is below deck, in an enclosed cabin, or if the boat is not underway.
Remember that there are state-specific regulations that remain applicable. So check the regulations for your area before going boating with a child on board. We'll review state specific information in Chapter 9.
Here are some tips for selecting a child's PFD:
First, take into account the child's swimming ability. Children who are not swimmers should wear a Type 2 child vest, which has greater buoyancy than a Type 3 PFD
Consider the child's age and experience level around the water.
Teach the child how to relax and float in the water wearing a PFD.
Choose the right type of PFD for the activity.
And, always check to make sure that the size is appropriate for the child's weight.
Finally, remember that a child's PFD or lifejacket is never a substitute for proper adult supervision.