Life Jacket Fitting & Care Guidelines
PFD Sizing and Availability
For your PFD to work properly, it needs to fit properly.
How is a life jacket supposed to fit?
A properly fitted PFD will not ride higher than the ears or mouth of the wearer. It should also be comfortable to wear.
Here's an easy test to make sure you've got the right fit.
Put on your PFD and adjust the straps to get a snug fit. Can't get a snug fit by tightening the straps? Your PFD is probably too large.
Now get in the water to see that it can hold your weight. For safety reasons, it's recommended doing this in shallow water.
Bring your knees up to your chest, so that you are floating in the water. If the PFD supports your weight and has stayed around your chest, then you have a good fit.
Remember, if your PFD rides up higher than your mouth or ears, it's too large.
Now that you've got a properly fitted PFD and you're already wet, try swimming with it on. This will help you get comfortable wearing a PFD in the water.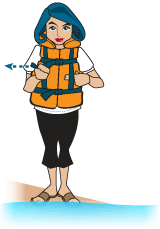 Step 1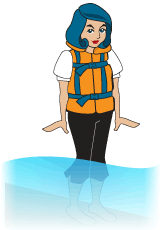 Step 2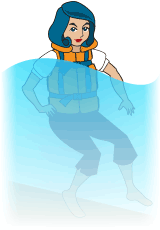 Step 3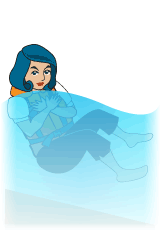 Step 4
Because accidents happen quickly, it is highly recommended that all boaters wear a life jacket at all times when on the water. In the case of a fall overboard, you will not have time to put on your PFD.
However, if you are not wearing your PFD, at least make sure that it is accessible in the case of emergency. This means not stored below decks.
Always make sure that throwable PFDs are accessible and ready for action. Don't buy a throwable PFD and leave it stored in its packaging! Unwrap it, test it, and keep it within easy reach. Accessible means you can access it without delay.
Caring for your PFD
Like any piece of important equipment, your PFD needs to be kept in good condition for it to do its job.
Before heading out on the water, make sure to give your PFD a once over, checking for rips and tears, and that all straps and hardware are working properly.

BAD: Not Approved

GOOD: Approved
Not only is it important for your safety, but a PFD in poor condition will not meet U.S. Coast Guard standards and could land you a hefty fine if you're stopped by law enforcement.
So check your PFDs and replace them immediately if you see any rips, tears or other damage.
You can keep your PFD in good condition by following some easy maintenance tips.
Never use your PFD for anything other than what it was intended. That means, don't use it as a cushion or a boat fender.
If you need to clean your PFD, hand wash it using a mild soap and running water. Never machine wash, dry clean or use strong detergents.
Always air-dry your PFD by leaving it in a well-ventilated space out of direct sunlight. Never dry your PFD by putting it close to a direct heat source.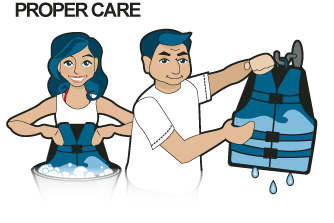 Finally, test the buoyancy of your PFD on a regular basis. The best way to check buoyancy of your pfd is simply to put it on and wade into shallow water. Then bend your knees and float on your back. If the PFD supports you easily in the water, you're good to go.