Life Jacket Rules & Requirements
Personal Flotation Device Labels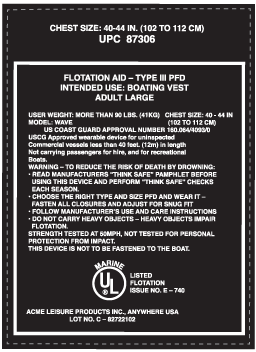 You need to check to make sure that your PFD is the right size, the right type for your activity, and that it's U.S. Coast Guard approved.
You can find out this information by looking on the label.
Every approved PFD will have a product label with information about the intended use of the device, the size of the person it will fit, any special care instructions, and how to properly wear the PFD. It will also say whether the PFD is U.S. Coast Guard approved.
No label? Then it's not approved and should not be used!
The U.S. Coast Guard approval means that the PFD meets certain standards of buoyancy and construction. It also means that the PFD has been given a "Type" and a descriptive name, so you can be sure it will be up to the task of your chosen activity.
By the way, paying attention to the label is serious business. Using a PFD beyond the intended use described on the label is illegal and can result in serious penalties. More important, it can result in fatalities. So, you should always check the label and make sure you are following its guidelines.
Important Life Jacket Requirements to Remember
The U.S. Coast requires that:
You need a wearable PFD for every person onboard your boat, and it needs to be the right size. Four adults and two children? You need four adult-sized PFDs and two-child sized PFDs.
If your boat is longer than 16 ft, you also need at least one Type 4, throwable PFD, on board.
And if your PFD is in poor condition, for example if it has any rips or tears, it is not considered approved.
Additional PFD Requirements

Here are a few more important rules to remember when it comes to PFDs.
First, if you're operating or riding on a personal watercraft, you need to be wearing an approved PFD.
Second, if you're being towed behind a vessel, you are considered to be "on board". Four people in the boat and one on waterski? You'll need five approved PFD's on board.
Lastly, inflatable PFDs are not approved for use by wearers under 16 years of age. They are also not approved for high-impact activities such as waterskiing or operating a PWC.
The most important PFD regulation? You need one properly fitted PFD onboard for each of your passengers!
Wearing your PFD
When do you have to wear a life jacket?
The best answer is: whenever you're in or around the water, not just operating a boat.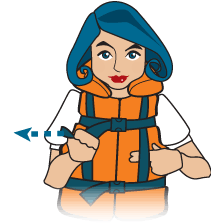 However, a PFD should be always be worn while boating, and especially when boating in dangerous conditions.
Dangerous conditions include any time you encounter:
Severe weather, such as storms or high winds;
Dangerous water conditions, such as rough or cold water;
Areas with high boat traffic or dangerous local hazards;
Operating at night or in low visibility;
Traveling at high speeds; or
Taking part in watersports activities like waterskiing or tubing.
Remember, conditions can change very quickly on the water and PFDs take time to put on even if they are close at hand. Often you will not have time to put on a PFD in the event of an emergency. PFDs are also much harder to put on when in the water.
The best way to be prepared is to wear your PFD or lifejacket whenever you're on or around the water.