Marine Boat Visual Distress Signal Types & Uses
Marine Distress Signals: Anytime Use

Marine Radio
21-82 KHz (MF)
Channel 16, 156.8 MHz (VHF)
DSC alert, channel 70 (only for DSC-type radios and where the service is offered)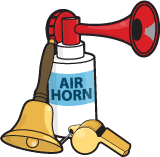 Sound Signaling Device
Continuous sound with any foghorn, bell or whistle
Gun or other explosive signal fired at one-minute intervals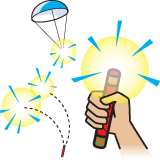 Pyrotechnic VDS
Type A: Parachute flare
Type B: Multi-star flare
Type C: Handheld flare
Type D: Orange smoke flare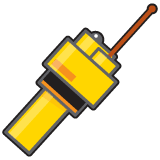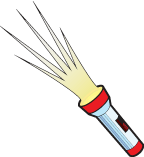 flashlight
Flash S.O.S. signal (short-short-short long-long-long short-short-short).
Standard Marine Distress Signals (Daytime Use)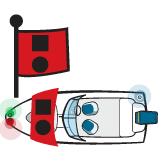 Distress Cloth
Lay a distress cloth on the roof of your boat or fly it from the mast;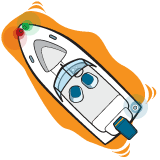 Dye Marker
Use dye markers to release an orange dye into the water marking the area around your boat;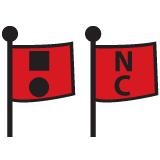 Code Flags
Fly a code flag with the letter N over the letter C, or with a square either over or under a ball;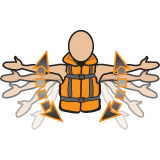 Figure B
Use your arms to call for help by repeatedly raising and lowering your outstretched arms.
VHF Radiotelephone
As a recreational boater, you are not required to carry a on board. However, these radios can be very handy for communicating with other boaters, the Coast Guard, commercial vessels, marinas and lock operators.
Recreational boats less than 20 meters in length are NOT required to have a station license to operate a VHF radio unless they travel to foreign ports or transmit to foreign stations. Use of a VHF radio is enforced by the U.S. Coast Guard.
VHF radios do not need to be Coast Guard-approved. And, if your boat is under 20 meters in length, or less than about 65 feet, and you are not traveling to foreign ports or transmitting on a foreign station, then you also do not require a special station license to use a VHF radio.
The U.S. Coast Guard enforces the use of VHF radios. While there are many VHF channels, as a recreational boater, you only have access to select channels. Take a moment to check the chart below for a list of available channels.
| Channel Number | Channel Purpose/Use |
| --- | --- |
| 6 | Inter-ship safety communications only |
| 9 | Commercial and non-commercial inter-ship, ship to coast and alternate calling channel |
| 13 | Ocean-going vessels, bridge tenders, tugs while towing, locks |
| 16 | Distress safety and calling, call Coast Guard, establish general contact |
| 24-28,84-88 | Public telephone calls (to call the marine operator) |
| 68,69,71 &78 | Non-commercial inter-ship and ship to coast (recreational boat working channels) |
| 72 | Non-commercial inter-ship only |
Marine weather (WX-1, WX-2, WX-3) stations broadcast the latest available weather information from the National Weather Service continually. Forecasts are updated every six hours, or more often as conditions require.