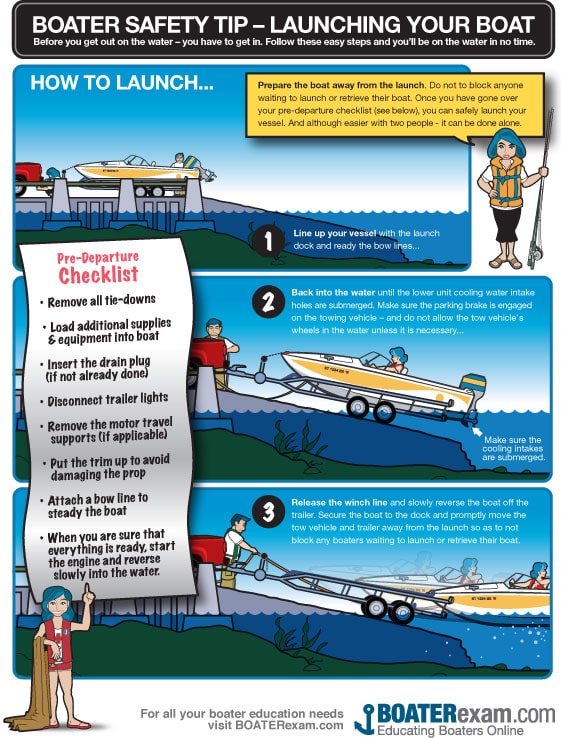 Launching your boat
Before you get out on the water - you have to get in. Follow these easy steps and you'll be on the water in no time.
How to Launch..
Line up your vessel with the launch dock and ready the bow lines...
Prepare the boat away from the launch. Do not block anyone waiting to launch or retrieve their boat. Once you have gone over your pre-departure checklist (see below), you can safely launch your vessel. And although easier with two people - it can be done alone.
Back into the water until the lower unit cooling water intake holes are submerged. Make sure the parking brake is engaged on the towing vehicle - and do not allow the tow vehicle's wheels in the water unless it is necessary...
Make sure the cooling intakes are submerged.
Release the winch line and slowly reverse the boat off the trailer. Secure the boat to the dock and promptly move the tow vehicle and trailer away from the launch so as to not block any boaters waiting to launch or retrieve their boat.
Pre-Departure Checklist
Remove all tie-downs
Load additional supplies & equipment into boat
Insert the drain plug (if not already done)
Disconnect trailer lights
Remove the motor travel supports (if applicable)
Put the trim up to avoid damaging the prop
Attach a bow line to steady the boat
When you are sure that everything is ready, start the engine and reverse slowly into the water.